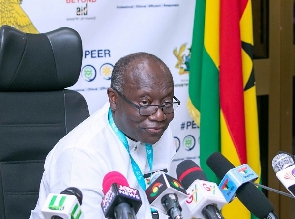 Government through the Ministry of Finance has reached an agreement with commercial banks to restructure GH¢15 billion ($1.36 billion) of domestically issued U.S. dollar bonds and cocoa bills.
This is according to a Reuters report which cited three sources familiar with the negotiations.

"They (the banks) understand that they are better off getting a restructuring because we may not be able to pay the coupon," a finance ministry source told Reuters.

The development by Ghana to conduct a second round of domestic debt restructuring is hinged on a June timeline in order to meet an IMF conditionality deadline with plans to engage external creditors on a debt restructuring exercise.

Despite concluding the first phase of the DDEP back in February this year with about 85 percent of eligible bondholders participating, Ghana now needs to undertake new terms for another GH¢123 billion ($11.18 billion).

This is to enable the country qualify for the second tranche of the $3 billion Extended Credit Facility from the International Monetary Fund.

Reuters sources familiar with the negotiations said the second phase of the DDEP will comprise of domestic dollar bonds, cocoa bills, pension funds and debt owed to the central bank.
They added that the government of Ghana and lenders have agreed to convert about GH¢6.9 billion worth of domestic US dollar bonds into two-term loans at new reduced rates.

In addition to this, Reuters reports that another GH¢8.1 billion worth of cocoa bills will be converted into a new bond at 12 percent yield, although some commercial banks are holding out for 13 percent yield.

As of February 2023, the last cocoa bill issued from the cocoa regulator, COCOBOD had a yield of 32.22 percent.

Reuters however emphasized that a request to comment on the matter by the Finance Ministry and COCOBOD was declined.

Meanwhile, the new terms of the loans have a five-year maturity, starting from 2025, according to the three sources who spoke on condition of anonymity because they are not authorised to speak publicly on the matter.

Watch the latest edition of BizTech and Biz Headlines below:








MA/FNOQ