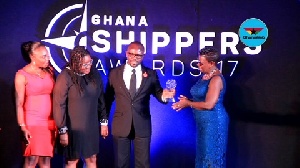 The 2nd edition of the Ghana Shippers Awards few months after its launch have received tremendous participation of key stakeholders, companies and respected individuals within the shipping industry.
The second edition which promised to be bigger and better has brought together most if not all the key stakeholders within the shipping and maritime industry and agencies under the Ministry of Transport mandated by the laws of Ghana to effectively and efficiently manage Ghana's commercial shipping and to protect and promote the interest of shippers in relation to international trade and transport logistics.

With a team of technical expertise from the Ghana Shippers Authority and independent consultants, this year's edition of the categories have been expanded to cover more of the shippers to enable the awards have a balance between the shippers and service providers. This has therefore increased the number of companies participating this year to 48 and the number of nominations to 93.

The awards cut across road transportations, ocean carriers, air transportation, freight forwarding, shipping agents, express services, courier agencies, government agencies, insurance, financial institutions and more.
Organisations that have submitted their nominations so far include Ghana Ports and Harbour, DHL Ghana Limited, Kingdom Exim Ghana Limited, Star Assurance, Cargill Ghana Limited, Grimaldi Ghana Limited, Swissport Ghana Ltd, Meridian Port Services Limited, Blue Skies Products Ghana Limited, Elwa Ghana Limited, Jonmoore International, Sevenlog Limited, Ghana Community Network Services, CAGL Logistics, West Blue Consulting, Freight Masters Shipping Agency, Air Ghana, Graphic Communications Group, Apex Shipping & Commercial, Delata Ghana Ltd, APM Terminals Ghana Limited, Mcdan Shipping Company Limited, BAJ Freight and Logistics, Damco Logistics Ghana Limited, Electricity Company of Ghana, Fuel Trade Limited, Sea & Shore Services Ghana Limited, Activa International Insuance, Benmarine Offshore Services, Global Cargo and Commodity, Rigworld, Axxis shipping, Conship, Melcom Limited, B5plus Limited, Amaris Terminal, Kasapreko, Aramex Ghana Limited, Delexes Company Limited, Radio Gold, Bluchip Logistics, UT Logistics, Transglobal Logistics Limited, Maritime Agencies Limited, Borderless Alliance.

The Ghana Shippers Awards which continues to recognize achievements in the field, promotes the interests of the industry - nationally and internationally as well as provide an unparalleled opportunity for industry players to network.

The awards night and dinner will come off on the 22nd of June, 2018, 6pm at the Movenpick Ambassador hotel and is organized by Globe Productions in partnership with Graphic Business and the Ghana Shippers Authority