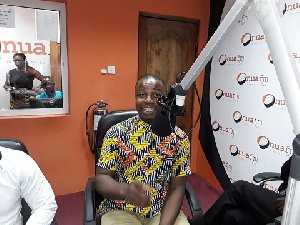 The Dean, School of Graduate Studies at University of Professional Studies Dr Kweku Mawutor Mensah has described the decision of the newly Board Chairman of COCOBOD's decision to slash into half, salary of Chief Executive Officer of COCOBOD as too populist.
According to Dr Kweku Mawutor Mensah, the decision by Hackman Owusu Agyeman will rather serve as disincentive if not discourage people from aspiring to the position.

The Board Chairman of COCOBOD Hackman Owusu Agyeman recently revealed in a radio interview that he will ensure a massive reduction in the salary of the new Chief Executive Officer of the company.

According to Mr. Owusu Agyeman, salaries being paid to former CEO and other managers of the company are outrageous and not sustainable. His comments followed revelations that the immediate past CEO of COCOBOD Dr. Stephen Opuni earned a whopping GH¢70,000 monthly salary.

"The comments of Hon Hackman Owusu Agyeman I beg to differ, it is a populist decision. I am not happy about it when I heard it. It is too populist that is capable of discouraging people from taking up that post" Dr Kweku Mawutor Mensah told Bright Kwesi Asempa, host of Onua Fm morning show, in reaction to the comments of the former Foreign Affairs minister in the erstwhile Kufour administration.
The Dean Dean, School of Graduate Studies, UPSA further opined that, if salaries of Chief Executive Officers (CEOs) and Managing Directors (MDs) of state institutions are not pegged at target and performance set at such institutions, the status quo will remain.

Adding that "the politicians will always push their people to those positions for their own gains, which gives them room to offer all kinds of excuses in the event that they did not deliver"

He stressed that targets and performances should be rewarded instead of political affiliations which is recipe for cronyism and nepotism. Maintaining that if the CEOs and the MDs fail to meet the standards set for them, they should be fired. He noted that government must take its hands of appointment of CEOs and MDs to public institutions else "we will be going in this cycle"