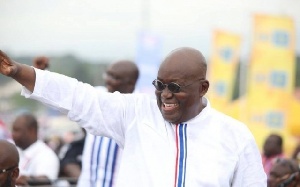 The Political Science Department of the University of Ghana says the Akufo-Addo government's approval rating in its second year stands at 57.7%.(58%)
In a research conducted by the Department which focused on various sectors of governance and economy, 63.5% of the 5000 voters sampled endorsed the Free Senior High School [SHS] programme, making it one of the popular initiatives of the government.

Dr. Maame Gyekye Gyandoh, Head of the Political Science Department at the University, who presented the findings said the respondents were selected from 80 constituencies with constituencies in all the 10 regional capitals being part.
The findings mean that there has been a drop in the approval ratings of Akufo-Addo; the same institution announced in January 2018 that 62% of Ghanaians still have confidence in the Akufo-Addo government.