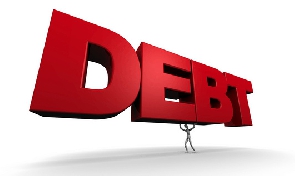 Fri, 10 Mar 2023 Source: GNA
The Tax Justice Coalition-Ghana, a coalition of Civil Society Organisations (CSO), says government will need foreign creditors to cancel about 60 per cent of the country's $30 billion external debt to achieve a sustainable debt level by 2035.
The coalition has, therefore, called on the government to pursue a comprehensive external debt restructuring programme that would ensure that most of the country's foreign debt, especially those contracted on a bilateral basis got canceled in the form of reliefs and grants.

The estimation is based on an analysis of the 2023 Annual Budget and Economic Policy that the government plans to implement to address the current economic crisis.

Speaking at a press briefing in Accra, the Chairman of the coalition, Mr Vitus Adaboo Azeem, said government must also drastically cut down the size of government and scrap or merge some Ministries, Department, and Agencies (MDA) to reduce the budget size and create less need for borrowing.

He also called for the suspension of the National Cathedral Project and the scrapping of the Contingency Vote that allowed the executive to "engage in unapproved expenditure".

"The government estimates an overall debt-to-GDP ratio of 55 percent and external debt service-to-revenue of below 18 percent by 2028.
"And under the International Monetary Fund (IMF) Debt Sustainability Framework, for a moderate risk of debt distress, the present value of Ghana's external Debt to GDP ratio should be below 40 percent and external debt service below 18 percent of government revenue," he said.

The Coalition, which comprises the Integrated Social Development Centre (ISODEC), Ghana Integrity Initiative, ActionAid Ghana, Ghana Anti-Corruption Coalition, and Revenue Mobilisation Africa, also called on the government to focus more on implementing progressive taxation of income, wealth, and property.

It said it recognized the debt crisis as a major hindrance to the achievement of the government's proposal in the budget, adding that, "Ghana will need to borrow to implement the budget while seeking to restructure its debt owed to external creditors after a long-drawn-out negotiation with domestic creditors."

"All these put a constraint on budget financing through the financial markets where there will be some limited access," Mr Azeem said.
Source: GNA