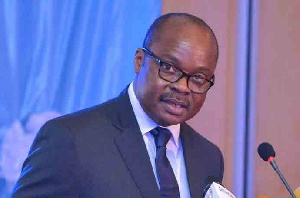 The Bank of Ghana (BoG) has said its research has shown that 70 per cent of Ghanaians still rely on hard cash for trading in spite of efforts to go cashless.
Explaining the decision that went into the introduction of the new GH¢200 and GH¢100 notes at a training workshop for members of the Institute of Financial and Economic Journalists (IFEJ) in Koforidua on Saturday, 30 November 2019, Mr Phillip Otoo, Director of Research at the BoG, said research conducted in 2017 pointed to the fact that most Ghanaians still preferred using cash for their transactions.

"The introduction of the new notes was as a result of a two-year research work that was done. It started in March 2017. After the research, the conclusion was that 70 per cent of the population still rely on cash", hence the decision to introduce the new notes, Mr Otoo stated.

The Governor of the central bank announced the introduction of the new notes at a press conference in Accra on Friday, 29 November 2019.

The BoG also introduced a GH¢2 coin.
Dr Ernest Addison urged the public not to misinterpret the introduction of the high-value notes to mean a shift from the central bank's policy of pursuing a cashless society.

"The introduction of these high-value notes should not be misinterpreted to mean a shift away from the Central Banks policy of pursuing a cashless society and promoting the use of electronic modes of payments. While vigorously pursuing financial inclusion by accelerating the migration to e-payment platforms, we are also mindful of the relevance of cash in our day-to-day dealings," Dr Addison said.

He said "undeniably, cash still remains the preferred medium of payment by the large informal sector in the country. This is why we continue to pay attention to enhancements in the structure, security features and management of cash within the economy. This will stay with us for some time."