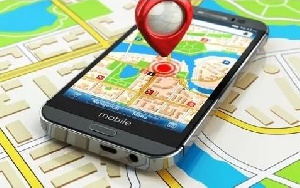 Out of the estimated 4.5 million homes in Ghana, over 740,810 household digital addresses have so far been created through GhanaPostGPS, Ghana's official digital property addressing system, which ensures that all locations in the country are addressed.
350,000 Downloaded GhanaPost app

Also, 350,000 Ghanaians have downloaded the app since the service was launched in October 2017.

Chief Commercial Officer of GhanaPost, Jonathan Ansah, who disclosed this to The Finder in an interview, explained that with GhanaPostGPS, every location has a unique digital address.

The digital address is a composite of the postcode (region, district & area code), plus a unique address.

3.9 Million unique activities performed

He stated that the app has registered over 3.9 million unique activities since it was launched.

40,810 home addresses created by individuals
According to him, individuals used the app to create 40,810 home addresses.

Regional breakdown of 40,810 addresses

The regional breakdown is: Greater Accra – 22,461; Eastern – 2,857; Central – 2,557; Western – 2,514; Ashanti – 6,531; Volta – 623; Brong Ahafo – 1,633; Northern – 816; Upper East – 408; and Upper West – 408.

GhanaPost uses ECG data to create 700,000 addresses

However, he said GhanaPost, in an effective collaboration, used data that the Electricity Company of Ghana (ECG) uses to distribute bills of postpaid customers to create addresses for the households.

He noted that, for now, the collaboration with ECG has captured 700,000 customers in Accra and Tema, but added that it would be extended to cover all of Ghana.

Ansah disclosed that all things being equal, postpaid customers of ECG would receive their bills with their GhanaPost addresses on them from March ending.
500 Recruits to do house-to-house registration

He said 10 teams, each comprising not less than 50 members, would be recruited to move from house to house to help people download the app, teach them how to use it, and create the addresses for those who cannot create for themselves.

GhanaPostGPS to fight mobile money fraud

With the increasing fraud in mobile money, the Bank of Ghana (BoG) is eager to use the system to crack down on unscrupulous agents.

Financial institutions to use GhanaPostGPS system to validate transactions

Financial institutions in the country have also contacted GhanaPost seeking access to the address database to verify customers and validate transactions.

GhanaPostGPS to rival Uber
He disclosed that a transport company seeking to rival Uber has also started using the GhanaPostGPS system.

E-Commerce business triples

Ansah said the e-Commerce business of GhanaPost has tripled as a result of using the GhanaPostGPS system, with staff having used it to deliver over 150 parcels and letters.

Partnered Jumia to deliver 4,000 parcels

He noted that through collaboration with online trading market Jumia, some 4,000 parcels have been delivered to homes across the country.

Offline mode for delivery services and to register rural population

He disclosed that GhanaPost is using the offline mode of the app to register people in rural areas, as well as for delivery services.
National Identification Authority angle

He announced that when the National Identification Authority (NIA) commences registration, people without digital home address who visit the registration centres will return home with one.

This, he said, would be done with support from locals in the vicinity of the registration centre, who would be engaged to assist registrants to locate their homes on the GhanaPostGPS to create the address for them.