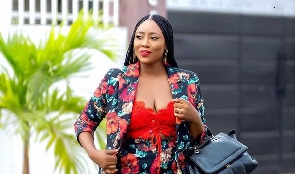 A Ghanaian fashion entrepreneur, Karen Kash Kane, has attributed laziness among the Ghanaian youth as the reason for the persistent unemployment rate in the country.
According to her, about 80 percent of Ghanaian youth are 'a bit lazy' although she did not categorically state how she came up with the figure.

She made the comments while speaking at an event on Accra-based Joy Prime TV which focused on Ghana's unemployment rate and tackling the menace.

According to the female entrepreneur, many youth have reached out to her to assist with job opportunities adding that she sometimes gets skeptical if they have the requisite capacity to undertake jobs from employers.

She explained, "Sometimes I feel like it's the educational system, the upbringing, you know, like the mixture of everything. But technically I'll say that, and this is my honest truth, I feel like 80 percent of the youth right now are a bit lazy," she said.

"I work 6 days, I run my own business and this is our 12th year of doing this, and this is supposed to be my own business, however, I am more concerned at the end of the month about the salaries I have to pay but why am I working more than everybody else when everybody else has a day off," She continued.
"This is my own business and people who are supposed to be doing the work for us to have the money to pay them are either complaining...you know there's always an excuse," the fashion entrepreneur added.

Her views which have now gone viral has also received widespread backlash online.

Watch the video below:


80 percent of the youth right now are a bit lazy.

- Karen Kash Kane, Entrepreneur on Unemployment in Ghana on #6thSense pic.twitter.com/C4c3BMGaNY

— Joy Prime (@JoyPrimeTV) February 19, 2023


Watch the latest edition of BizTech and Biz Headlines below:






Watch the latest edition of Business Moments below:





MA/FNOQ