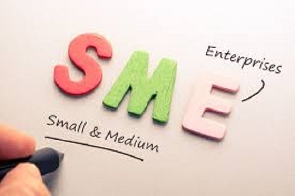 Tue, 11 Jul 2023 Source: GNA
Dela Gadzanku, the Volta, Oti, and Eastern Regional Chairman of the Association of Ghana Industries (AGI) has called for the introduction of a special support fund to assist Small and Medium-Sized Enterprises (SMEs).
He said the fund was necessary to enable business entities to take advantage of the prevailing African Continental Free Trade Agreement (AfCFTA).

Mr Gadzanku made the call in Ho at the Volta Regional Conference and Stakeholder Engagement on the Implementation of the AfCFTA.

He indicated that government should initiate the move with the key purpose of aiding export-oriented SMEs "especially the small ones but with big potential."

Mr Gadzanku who also appealed to Municipal and District Chief Executives (MDCEs) to have their interest in AfCFTA, explained that most SMEs remained ready to take up the export opportunity in the AfCFTA space but could not do so due to lack of funding.

"Some even have orders already but they are stacked as a result."

However, Mr Gadzanku suggested that the Fund should be within the Ghana Exim Bank due to the challenges encountered on other financial setups.
"Exim Bank should create a desk purposely for SME readiness for export under AfCFTA. There should be an amount of money from their funds to support this agenda because it would be useless without funds being set aside," he added.

Mr Gadzanku also commended the opening of the Export House in Kenya by the Ghana Export Promotion Authority (GEPA) and National Coordination Office of AfCFTA.

Dr Fareed Arthur, National Coordinator, AfCFTA Coordination Office, on his part, said Volta Region is moving on the positive path for the economic breakthrough with AfCFTA under the auspices of the continental free trade agreement.

He explained that Volta Region had huge potential and is well-positioned strategically for businesses to strive.

Dr Archibald Yao Letsa, the Volta Regional Minister, among other suggestions, said there was the need to enhance more public-private partnerships and linkages to prove the gains of the AfCFTA.

The engagement, which registered both Public, Private institutions and businesses from all sectors in Region, was organised by the National AfCFTA Coordination Office, Ministry of Trade and Industry, Regional Coordinating Council, and partners.
Source: GNA