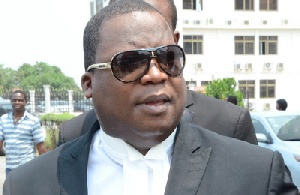 Phillip Addison, Chairman of the 17-member committee put together by Energy Minister Boakye Agyarko to investigate the power purchase agreement signed between Ghana and AMERI Energy in 2015, has said the committee was not given preferential treatment when the company hosted the committee in Dubai as part of its review process.
According to him, the payment of the committee's air tickets and hotel bills by the company did not influence the outcome of the investigations.

His comment follows concerns raised by former Power Minister Dr Kwabena Donkor that the Committee's trip to Dubai was financed by AMERI.

Denying any wrongdoing in the deal by the erstwhile administration at a press conference in parliament on Monday April 3, Dr Donkor, who is also Member of Parliament for Pru East, said: "The [Addison] committee claimed there was no legal opinion from the Attorney General's Department, but the Attorney General's Department was strongly represented throughout the negotiations by both professional staff and management. The final agreement was witnessed by the deputy Attorney General and Minister of Justice.

"We will pledge our support to the government as long as the issues of energy are being resolved in the national interest, but if they introduce partisanship in this way, much against our wish, we will be forced to respond.

"Members of the Addison Committee, including Mr Addison, visited Dubai, they had meetings with AMERI even after this report was written. We will want to ask who paid for their tickets. Who paid for the hotel accommodation that they used? We have the evidence that AMERI Energy paid for their hotel, AMERI Energy paid for their flight tickets. If you are going to investigate someone, do they pay for your tickets and pay for your accommodation and host you?
"We are in a country of law, our side will not want to see an energy sector divided between NDC and NPP and, therefore, they should be candid with us."

But speaking on this matter on Metro TV's Good Evening Ghana on Tuesday April 26, Mr Addison said: "A lot of noise has been made about this that in my opinion is a side issue. The report that was done by the committee was leaked and everybody saw it and read, but I don't hear the NDC commenting on the report, on the issues raised in the report. Rather they go on the tangent to talk about hotels and so on. The delegation that went to Dubai was a government delegation of three. We were supposed to be four but the Chief Executive Officer of VRA, who was supposed to be part, couldn't attend because of pressing matters.

"These are people [AMERI] who have expressed the wish to renegotiate the contract. The issue of the payment of the ticket had nothing to do with us. I didn't go and negotiate for ticket payment. The way it is being said, it's as if I went to AMERI and requested for money to buy a ticket. I was sitting in my office and I got the ticket and I got the visa on my phone. We didn't even know the hotel until we got to Dubai. We were picked up and sent to the hotel which was just two blocks from their office.

"We had no idea about the hotel. This was not a fancy hotel. Dubai has a lot of fancy hotels [and] this is not one of them. We also didn't travel first class, we travelled business class and people think we have been influenced by business class tickets."

He added: "The committee was set up and it is the outcome of the committee's report that sent us to Dubai because one of the recommendations was to renegotiate the agreement. The outcome was not quite satisfactory the way we wanted it, so it has not been renegotiated. For us what will be a satisfactory outcome will be for AMERI to give up a sum of the almost $200 million that it is pocketing for doing nothing."