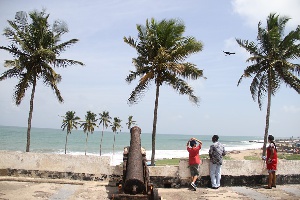 Thu, 9 Nov 2017 Source: Bennet Otoo
''Our heritage won for us; through the toil of our fathers'' - These are powerful words from the national pledge of Ghana. The heritage has been won, we have to a large extent kept it and preserved it. Does it now end there? What Ghana stands for is something almost everyone knows by know.
Citizen or visitor, everyone who spends time in Ghana doesn't take too long to realize how rich our culture and tradition is. Tourism is key to Ghana's economic development and being ranked as the 4th highest foreign exchange earner after gold, cocoa and oil is a very significant point to note. Where does the industry go from here? Do we sit back and watch it fall down the ranks again or do we maintain it's position? The only way forward is by adding value to what we already have to make it more attractive to already existing patrons while making it worth the penny for new interested patrons. ''We have reached a stage in life where moving forward is perilous, standing still is suicidal and flinching back is cowardice; but we must still persevere''. We cannot stop now and in order to survive, we just have to make it work. Jumia Travel, Africa's leading online travel website takes a look at some ways in which adding value can trigger growth in Ghana's Tourism industry.

Many of us Ghanaians don't see the true potential and benefits of our tourism industry probably because during peak seasons, airlines are fully booked, hotels seem full to capacity with no availability, restaurants are very busy, souvenir shops are choked and everyone seems to be enjoying Ghana. A deeper dive into the real deal exposes many cracks and leaks which need to be worked on. Most importantly, we need to add some value to our already existing strong tourism industry to reap more benefits. Before we look at what adding value will bring to us, let's consider a few ways to add value to our tourism industry.

Firstly, we have to sell a complete experience. In cities such as Dubai, Nairobi and Johannesburg, there is an experience attached to the many facets. One doesn't just fly there, sleep in a hotel and visit tourist sites. There is an experience which has been carefully tailored. It is a complete package! You will never go to Dubai and not know where to go.

Let's ask ourselves this. You go to Paris to see the ''Eiffel tower'', Kenya to see ''Masai Mara'', USA for the ''statue of liberty''. What do people come to see in Ghana? Yes, you are thinking the Cape Coast castle but what is the state of it and what will make a foreign tourist want to come see that castle rather than go to Nigeria to see Aso rock or Egypt to see the mummies? It's the experience.

Merely seeing old buildings and sleeping in hotels doesn't make up tourism.

When someone arrives, they have to see Ghana, wear Ghana, eat Ghana and feel Ghana.
The launch of this particular campaign by the Ghana Tourism Authority started a new trend in the tourism industry but more needs to be done. Let's get our tourists feeling something they won't get anywhere. Something unique and peculiar to Ghana. Something worth flying many miles for. Live plays to commemorate independence and the rich story of the Ashanti's, hands-on Kente weaving and adventures to several mountains or caves. These are just a few examples of the many things we can do.

Also, why don't we use our hotels to sell our tourist sites? You walk into a hotel and you have to ask the receptionist which fun places you can go to in Ghana. Many of which have no idea.

There are two things we can do here. Firstly, we have to train hotel and restaurant staff to readily give out information about tourist sites and other hospitality facilities to help foreigners and tourists have a memorable time. Even if they don't ask, why not suggest to them Give them a reason to spend money.

They often come with the aim of enjoying Ghana and come to think of it, no one plans a vacation without adequate funds. It's up to us, to make them spend it. Secondly, we have to provide tourism materials like maps, catalogues and videos in our hotels, airports and restaurants.

These are the first main points of contact with foreign visitors. Once they are greeted with information about where to see Ghana and enjoy the culture of this great country, they develop interest. We have a great product which can be better. However, for now, let's sell what we have.

A great point is also that most of our tourist sites are in isolation. They are just monuments and sites with no extra add-ons. When you travel several miles into nowhere to see a monkey sanctuary or a waterfall in Ghana, you are always mindful of the time to leave hence you don't fully enjoy the site. What if we had standard on-site accommodation, a restaurant and every other facility that makes one feel at home right on the site. Tourists can spend days there learning about every single detail.
Also, they won't rush into leaving knowing that they are safe and can continue the tour the next day. Many tourists, because of health risks refuse to eat local food. Why not establish a local bar and restaurant on all the tourist sites. Provide a complete experience. When you visit one site, you should have everything on hand.

Finally, when we provide an experience in addition to what we already provide, investors will flood in because of the improvements to do business, Ghana will have an amazing positive global look and we will have a competitive edge. Ghana will become a considerable option for foreign travelers to Africa.

Domestic tourism will also improve because many Ghanaians who may not have found visiting their own tourist sites interesting because they have seen it too many times will have a reason to go back and get the new feeling. The end results are mainly economic benefits which translates into a better Ghana for all.

Tourism in Ghana needs a lift. We can't achieve this by doing what we always do. We must add value. We must do something different to trigger the growth. The key is to add value. Create an experience!
Source: Bennet Otoo