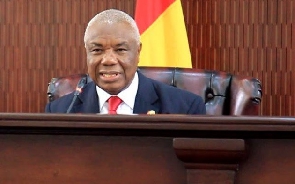 Trade barriers remain one of the major challenges impeding the free flow of goods and services in Africa.
To address this problem, the Board Chairman of CUTS International, Justice Jones Dotse, said pragmatic measures need to be put in place to break all trade barriers to unlock the full potential of the African Continental Free Trade Area (AfCFTA).

He higlighted how trading activities in Europe were devoid of impediments compared to that in Africa.

Speaking on the theme "Building Momentum Towards AfCFTA Implementation: Overcoming Challenges" in Accra, Justice Dotse said, "Most of you who have travelled to Europe, for example, will know that the trade barriers that exist in Africa do not exist over there and we need to break down those barriers to make the harmonisation of these protocols of AfCFTA very successful."

He opined that by moving towards common markets and free trade agreements, it is through AfCFTA that Africa can increase consumer and producer surpluses.

AfCFTA, one of the flagship projects of Agenda 2063, is a high-ambition trade agreement with a comprehensive scope that includes critical areas of Africa's economy such as digital trade and investment protection, amongst other areas.
By eliminating barriers to trade in Africa, the objective of the AfCFTA is to significantly boost intra-Africa trade, particularly trade in value-added production and trade across all sectors of Africa's economy.

AfCFTA, which came into effect in January 2021, is the largest free trade area globally, covering 55 African countries with a combined population of 1.3 billion people and a combined Gross Domestic Product (GDP) exceeding $3.4 trillion.

This will help African economies build robust and more resilient economies to absorb any shock – internally or externally.

SA/NOQ

Ghana's leading digital news platform, GhanaWeb, in conjunction with the Korle-Bu Teaching Hospital, is embarking on an aggressive campaign which is geared towards ensuring that parliament passes comprehensive legislation to guide organ harvesting, organ donation, and organ transplantation in the country.
Watch the latest edition of BizTech and BizHeadlines below: