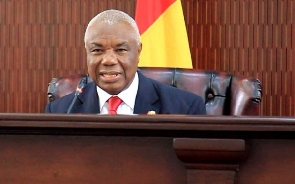 Thu, 17 Aug 2023 Source: GNA
Justice Jones Dotse, a retired Supreme Court judge, says the successful implementation of the African Continental Free Trade Agreement (AfCFTA) will demand a consistent approach to pan-African integration of shipping lines, airlines, and railway services.
Justice Dotse also advocated for deliberate harmonisation of customs policies to help remove or reduce non-tariff barriers that have hindered the movement of goods and services across the continent.

"Most of you who have travelled to Europe will know that the trade barriers that exist in Africa do not exist over there and we need to break down those barriers to make the harmonisation of AfCFTA protocols very successful," he said during a Public Private Dialogue to mark the 40th anniversary of CUTS International.

The theme for the event was, "Building momentum towards AfCFTA Implementation: Overcoming Challenges."

Justice Dotse is the Board Chairman of CUTS International, Accra, a non-profit Organisation that promotes policy and capacity building on Trade, Competition, Regulation and Governance in the ECOWAS region.

Dr Fareed Arthur, Coordinator for the National AfCFTA Coordination Office, shared his experience with non-tariff barriers on the continent, stating that during a four-day corridor observation trip from Abidjan to Lagos, he counted 97 stops and barriers.
"When we spoke to the traders and the cargo hauliers, they said the trips that took us four days took them four weeks," he said.

Mr Nlaliban Wujangi, Executive Secretary of the Chartered Institute of Logistics and Transport, underscored the need for investments in Ghana's transport sector to enable the country to remain competitive on the African continent.

During a panel discussion on "Positioning Ghanaian Service Sector to Take Advantage of AfCFTA," he stated that the sector's potential for competitiveness was dependent on how much commitment authorities make to reduce the sector's high tax burden.

"When you buy a ticket to travel to Lagos and you look at the cost breakdown, almost 20 to 35 per cent of the cost is tax.

"I also know that when you take the cost of fuel which is used as a source of energy for the vehicles and all that, it also comes at a certain price. What it does is that irrespective of the fact that we would want to be competitive in some aspect of production when you add the cost element of transportation, it increases the pricing," he said.
Source: GNA