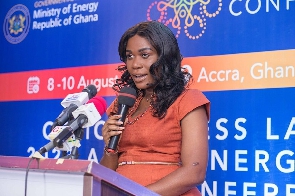 Sat, 18 Nov 2023 Source: GNA
The Africa Energy Technology Conference, scheduled to take place in Accra from March 12 to 15, 2024, is to explore the latest advancements in energy technology and policy integration by the leadership to ensure a sustainable energy future.
The highly anticipated conference aims to foster collaboration, knowledge sharing, and innovation in the field of energy technology within the African Continent.

It is being organised by the Africa Energy Technology Centre (AETC), in collaboration with the Ministry of Energy, which will bring together industry leaders, innovators, policymakers, and researchers among other stakeholders to discuss challenges, share best practices, and explore sustainable solutions for a just energy future.

It will be held on the theme: "Africa at the Forefront of Energy Technology and Policy Integration in a Just Energy Transition.,

It will serve as a platform for stakeholders to engage in insightful discussions, exchange ideas, and explore sustainable solutions to the challenges within Africa's energy sector.

There will be keynote speeches, panel discussions, interactive workshops, and technology exhibitions.

Renowned experts and thought leaders will address a wide range of topics including renewable energy, clean technologies, energy access, policy frameworks, investment opportunities, and the role of innovation in driving Africa's energy transition.
"We are thrilled to host the AETC Africa Energy Technology Conference in collaboration with the Ministry of Energy, Ghana," Ms Emelia Akumah, the Founder and President of AETC, said.

"This conference will provide a unique platform for stakeholders to come together, share knowledge, and explore innovative solutions that can propel Africa to the forefront of energy technology and policy integration."

The event aimed at facilitating a just energy transition that prioritised sustainability, inclusivity, and economic growth for Africa, she added.

Ms Akumah said the programme would attract a diverse audience, including government officials, industry professionals, researchers, investors, entrepreneurs, and representatives from international organisations.

Participants will have the opportunity to network, forge partnerships, and gain valuable insights from leading experts, fostering collaboration and driving the transformation of Africa's energy landscape.

With Africa poised to play a pivotal role in shaping the future of energy, the AETC Conference promises to be a significant milestone in accelerating her energy transition journey.
Source: GNA