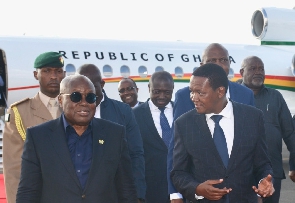 The inaugural Africa Climate Summit has opened in Nairobi, Kenya.
The Summit has attracted numerous world leaders to the country.

The three-day event scheduled from September 4, 2023, to September 8, 2023, is being held at the Kenyatta International Convention Centre (KICC).

The primary objective of the Africa Climate Summit is to address the growing impacts of climate change and their associated costs, both on a global scale and specifically within the African continent. It serves as a crucial platform for informing, shaping, and influencing commitments, pledges, and outcomes related to climate change, ultimately leading to the development of the Nairobi Declaration.

The summit is chaired by President William Ruto, who is also the host. It has attracted the participation of several presidents and other prominent leaders from around the world.
Over 20 African heads of state are attending the event in Nairobi this week. Among them are the presidents of Ghana, Nana Akufo-Addo, Burindi, Comoros, Sahrawi Arab Democratic Republic, and Sierra Leone, who have already arrived in the country and were received by Foreign Affairs Cabinet Secretary Alfred Mutua.

Additional world leaders are expected to arrive between today and Wednesday. Some notable figures include UN Secretary-General Antonio Guterres, President of the European Commission Ursula von der Leyen, Commonwealth Secretary-General Patricia Scotland, and Senior Managing Director of the World Bank, Axel van Trotsenburg.

Furthermore, US Special Envoy for Climate John Kerry, Chairperson of the Global Green Growth Initiative Ban Ki Moon, Chair of the African Union Commission Moussa Faki, and Director General of the International Renewable Energy Agency Francesco La Camera are among the global leaders expected to participate.