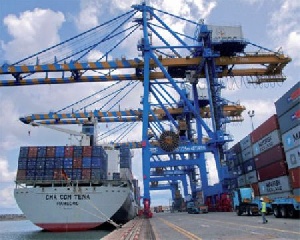 Tue, 6 Jun 2023 Source: GNA
Lawrence Osei-Boateng, Director of Business Development and Research of Ghana Free Zones Authority has stated the aims and objectives of the African Continental Free Trade Area (AfCFTA) can only be achieved if member states cooperate in all aspects of its implementation.
He said although the AfCFTA was supposed to promote free trade of goods and services, some of the countries were adopting internal protection policies that were impeding free flow.

Mr Osei-Boateng who stated this in a two-day seventh Ghana International Trade and Finance conference (GITFiC) in Senchi in the Eastern Region said while it took only three days to certify cement from other African countries, it took 28 days to do same in the Ivory Coast, a situation that frustrated importers in the country.

Apart from that, he said other West African countries were even refusing goods from other countries, which was therefore impeding the roadmap that was set up when the AfCFTA was launched a couple of years ago.

Mr Osei-Boateng called on African leaders to extensively deliberate on those issues to break the neck of over-protection which was likely to thwart all the efforts that were put in for the brilliant implementation of the policy.

He said there was the need for the leaders to collectively fight against the dumping of poor quality goods from other continents into Africa as that could serve as a stumbling block to their move to come out with a common currency to enhance intra-African trade.
While fighting inferior goods from other continents, he suggested to them to also create available markets, within and outside the continent to enable them to expand their businesses as trading within could not allow them to break even.

He explained that in Ghana only Companies that could export about 70 per cent or more of their goods were considered as Free Zone Companies, and called on the Small and Medium Enterprises to employ the services of skilled labour to maintain standards everywhere.

Speaking on Trade and healthy investment on the theme: "Actualising Africa's Industrialization agenda in the era of AfCFTA: The role of Africa's Small and Medium scale enterprises: The ECOWAS perspective, Mr Nashikaku advised that for them to move beyond the confines of the continent in terms exporting their products, there was the need to keep to international standards.

He called for serious investment in the raw materials to gain more income rather than exporting in their raw state.

He commended the GITFiC for bringing together major industry players to deliberate on pertinent issues concerning trade and industry as that could serve as a springboard for regional integration.
Selasi Koffi Ackom, Chief Executive officer of GITFiC said at the end of the conference a consensus on a single currency was arrived at and hoped that it would spiral trade and industrialization.

Some of the important issues discussed included Prospects on Africa's single currency, Actualising Africa's industrialization agenda in the era of AfCFTA: The role of Africa's Small and Medium scale enterprises – The ECOWAS perspective, sovereign economic vulnerabilities.

The conference among other things held panel and consultative discussions and had media engagements on some pertinent issues in the African continent.

It was attended by patrons from at least 10 African countries.
Source: GNA