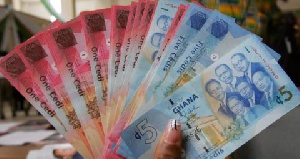 The Ghana Revenue Authority (GRA) has disclosed that the taxpayers' office at Agbogbloshie in Accra realised revenue in excess of its mid-year target, despite the low number of traders and businesses who filed their returns.
According to the GRA, about 75 per cent of traders within the medium tax bracket at Agbogbloshie failed to file their tax returns.

Speaking to Class Business, the GRA Assistant Commissioner in charge of the Medium Taxpayers' Office in Agbogbloshie, Robert Gbadegbe, bemoaned the low number of traders that filed their returns.

"Even though we have low returns being filed, we have a strategy of dealing with those that we already have in our net, so up to the month of July we've seen that we exceeded the mid-year target for both tax handles: the VAT and the direct tax types we have," he stated.
He blamed the presence of Small Taxpayer Offices (STO) closer to his jurisdiction for the low number of traders filing their tax returns at the Agbogbloshie office.

"The problem we have is that we find ourselves in the midst of other small taxpayer offices – Mateheko, Makola and then Agbogbloshie STOs – and we find ourselves within the same geographical territory. The problem is that some of them (businesses), because of proximity, are still filing [their returns] at these STOs; that's the reason why the filing rate has been very low. But internally, we are arranging with our own colleagues from the other STOs to have those files transferred to us and if that is done and they come to file, then the filing rate will improve," Mr Gbadegbe said, adding: "We will still not have 100 per cent tax filing rate so far as our tax payers are filing elsewhere."