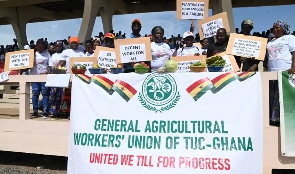 Tue, 2 May 2023 Source: GNA
Mr Edward Kareweh, the General Secretary of General Agriculture Workers Union (GAWU), has called on the government to increase investments in the agriculture sector to enable the country to produce enough to feed the people.
He said to attain sustainable development and equitable economic growth, the government could not be oblivious of the fact that agriculture played a critical role in providing employment and sustaining the Ghanaian economy.

Mr Kareweh told the Ghana News Agency that with

the potential of the sector to contribute to the development of the economy, it had many challenges, leaving most of its agents trapped in abject poverty.

He said the sector was characterized by significant decent work deficits, which included the prevalence of informality and weak labour market institutions, unfair farm contract practices, barriers to the exercise of freedom of association and collective bargaining.

The General Secretary urged the government to protect and promote the rights of workers within the agricultural sector against any form of slavery.
He said for a bright future free from all forms of oppression and discrimination, it would start by putting workable, efficient, and effective systems and structures in place to support the agricultural sector.

Mr Kareweh also called on the government to establish a similar Pension Scheme for all farmers as was done for the Cocoa farmers.

He said it would guarantee a decent retirement income for all farmers, while maintaining a decent standard of living after retirement.

On policies and programmes to attract the youth into agriculture, the General Secretary said these measures might have good intentions, but other areas needed to be looked at like access to ready markets for produce.

He urged the government to focus more on maize and soya bean production to help reduce imports,while creating more accessible markets and encouraging the farmers to produce more.
The General Secretary said while the country sought to industrialize, "we need to produce to feed those industries to develop our economy."

Watch the latest edition of BizTech and Biz Headlines below:






Source: GNA