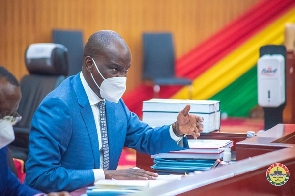 Haruna Iddrisu, the immediate-past Minority Leader in Parliament has listed what he considers his achievements over the last six years that he has served in the position.
He listed four major achievements dating as far back as late 2020 when Minority opposition along with pressure from Civil Society Organizations (CSOs) forced government to drop the controversial Agyapa Royalties deal.

Then in January 2021 when the Minority Caucus managed to elect Alban Bagbin as Speaker of the House at a time the then-speaker Aaron Mike Oquaye's candidature for a second term had also been presented by the government.

"As Minority Leader, you may like or dislike Haruna but at least I got a Speaker elected, I got a budget rejected and installed, I got Agyapa rejected.

"I got a debt exchange which is still struggling to be approved, all in service of the people," he told Joy News in an interview early last week.

Haruna also cited the purported rejection of the 2022 budget of government as well as the opposition mounted by his caucus to the ongoing Domestic Debt Exchange programme (DDEP) of government.

Haruna's main reference to his first tenure as Minority Leader (between 2017 - 2021) was the rejection of the Agyapa Deal.
The controversial deal was essentially a transaction by which 75.6% of royalties payable to the Government of Ghana over the life of a number of mining operations were being assigned to a Jersey-incorporated company and its Ghanaian affiliate.

The Minority forced Parliament to abandon the deal and vowed to vigorously oppose it in any shape or form when it is tabled before Parliament again. Minister Ofori-Atta mentioned it in the 2022 budget but it has not seen any progress since then.

On the DDEP, the Minority recently asked government to formally abandon the programme and or hold wide consultation with affected parties with an emphasis on exempting individual bondholders.

Barely 24 hours after the interview, it was reported that Haruna had been replaced as Minority Leader by Cassiel Ato Forson (MP or Ajumako Enyan Essiam), a decision that has since split the caucus into the pro-Haruna and Ato-Forson blocs.

NDC rings changes in parliamentary leadership

The NDC, through its General Secretary Fifi Fiavi Kwetey, wrote to the Speaker of Parliament, Alban Bagbin, to announce the replacement of three members: the Minority Leader, the Deputy Minority Leader, and the Minority Chief Whip.
The NDC picked Ato Forson to replace Haruna Iddrisu as leader of the Minority Caucus.

Other changes included Emmanuel Armah-Kofi Buah, MP for Ellembele, who is the new deputy Minority Chief Whip.

While Kwame Governs Agbodza, MP for Adaklu, will replace Asawase MP Muntaka Mohammed as the Chief Whip.

Ahmed Ibrahim, MP for Banda, has been maintained as the First Deputy Minority Chief Whip, while Comfort Doyoe Cudjoe-Ghansah, MP for Ada, is also retained as the second deputy Minority Chief Whip.

SARA