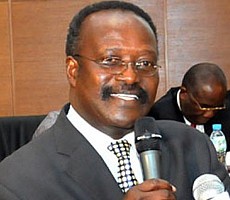 Mon, 30 Jul 2012 Source: GNA
Ghana is likely to record a bumper harvest this year following the favorable weather conditions and timely planting of seedlings.

Mr. Kwesi Ahwoi, Minister of Food and Agriculture, who made the prediction, however, said because of the current food deficit, the impact of the abundant harvest may not be felt for a short period.


He expressed contentment that the farmers took the planting activities seriously and made timely interventions during the early planting season.


Speaking to journalists at the end of the first session of a Stakeholders' Consultative Meeting on the Guidelines for the Operation of the Agriculture, Agro-Processing Development and Credit Facility for Export Development and Agricultural Investment Fund, (EDAIF) held in Accra.


He said inputs and logistics in the food crop sector were also delivered in a timely manner.


On the guidelines, Mr. Ahwoi said it was very important and explained that it had an all-embracing effect.

He said the benefits included increased yield to farmers, sustainable and improved access to raw materials to boost industries, as well as support to exporters to be in business.


The stakeholders' meeting was organized to enable the participants to make input to the drafted EDAIF guidelines towards finalizing it into a comprehensive framework that would guide managers of the fund, as well as prospective applicants on how to access the facility.


The Export Development and Investment Fund Act 582 of 2000, which operated two facilities namely: the Export Credit and Projects Facility and Export Development and Promotion Facility, was in October 2011 amended to include the provision of financial resources for the development and promotion of agriculture relating to agro-processing and the agro-processing industry.


It thus created a third facility known as the Agriculture and Agro-Processing Development and Credit Facility.


Ms. Hanna Tetteh, Minister of Trade and Industry, said the Government remained committed towards improving the living conditions of the citizenry and to making the country leap-frog to socio-economic advancement.

Professor Francis Dodoo, Board Chairman of EDAIF, observed that since its establishment in 2001, the Fund had contributed to the development of Ghana's non-traditional export sector.


"Data obtained from the Ghana Export Promotion Authority indicate that, non-traditional export earnings rose from 459.60 million dollars in 2001 to 2.43 billion dollars in 2011," he said.


Prof. Dodoo said 765 export-oriented projects had been supported by EDAIF to the tune of GH¢293.52 million between 2001 and June 2012.


"A total of GH¢206.72 million has been used to fund interventions under the Export Credit and Projects Facility, with 286 projects being supported," he said.


"Under the Export Development and Promotion Facility, GH¢86.80 million has gone to fund 479 projects."

Prof. Dodoo expressed optimism that the multiplicative impact of EDAIF on employment would be significant given the fact that agriculture "is Ghana's historical bedrock of national development".


He pledged that the management would continue to position the Fund strategically to enable it to play a more pivotal role in economic development.


Dr. Abdul Nashiru-Issahaku, acting Chief Executive of EDAIF, urged the participants to make meaningful contributions to the proposed guidelines to make the facility work efficiently.**

Source: GNA