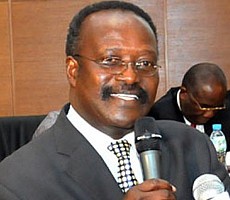 Tue, 3 Dec 2013 Source: Daily Guide
The Minister for the Interior, Kwesi Ahwoi has admonished all gaming industry operators to observe the country's laws and regulations as stipulated in the Gaming Act, 2006 (Act 721).
He also called on all gaming operators to train their staff in money laundering and terrorist financing techniques in order to help them understand and identify such illegal operations. Mr Ahwoi made the call when he officially launched Golden Dragon Casino, a new gaming centre at the Osu Mall on Friday in Accra.

"Lately, the issue of money laundering and financing of terrorism has become a global menace. Ghana is seriously pursuing anti-money laundering measures aimed at deterring criminals from using the financial and money service business such as the casinos to launder their criminally derived funds," the interior minister revealed.

He said the Gaming Commission has been empowered through the Gaming Act (721) not to issue or renew licences for the operation of games of chance unless the applicant for the licence or the renewal provides proof of the lawful origin of the capital for the intended operation or in the case of renewal, the origin of its additional capital to the Games Commissioner.

"I wish to assure you that the government has built the capacity of the law enforcement agencies to apprehend and prosecute perpetrators of money laundering," Mr. Ahwoi said.
The interior minister said many countries had passed laws restricting the business, adding that Ghana has adopted the positive approach of legalizing the business through a regulatory framework supervised by the Gaming Commission.

The Gaming Commission of Ghana, established by Act 721 of Parliament on December 22, 2006 under the Ministry of the Interior to regulate, control, monitor and supervise the operation of games of chance in the country, has licensed 42 Games of Chance made up of 19 casinos, 10 roulette operators and 13 sports and 13 sports betting facilities.

He said the government was committed to creating a conducive environment for investors in the gaming sector in particular and across all sectors of the country's economy.
Source: Daily Guide