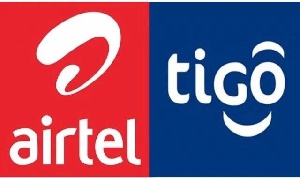 The new management of the merged telecom companies, Airtel and Tigo has asked staff of the two companies to reapply for their jobs.
The directive was given a day after the companies announced its transition name as "AirtelTigo".

The directive comes as a surprise to the workers of the two companies because management initially promised the staff there will be no job cuts as a result of the merger.

But latest development from top management has hinted that workers who will not be retained will be given a cumulative of their three months' salary multiplied by the number of years they have worked with the firm.

The new CEO of the new brand, Airtel Tigo on Monday, November 13, 2017 announced the fresh name and logo.
CEO of AirtelTigo Roshi Motman said "As you can see, we are now bigger, better and stronger with 22% market share.

It means that we will play an important part in the industry and serve our customers with quality and better service". There was also the introduction of new management members.

"From Airtel Indian, please help me welcome Mufti Shaban as the new Chief Operating Officer, From Airtel Ghana, please help me welcome Kwame Annor who will take care of the human resource in the company. Bright Owusu Bempah will bring the money, let's welcome him."