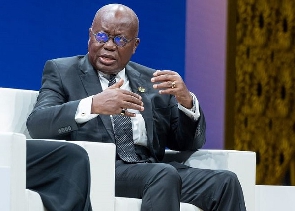 President Nana Addo Dankwa Akufo-Addo and other leading African and Caribbean figures will be among the top headliners at the 30th Annual Meetings of the African Export-Import Bank (Afreximbank) taking place in Accra from 18 to 21 June 2023.
According to a provisional programme released in Accra, President Akufo-Addo and Prime Minister Mia Amor Mottley of Barbados will be among a set of high-profile leaders comprising heads of state and government, former heads of state, other political leaders, business leaders, African trade practitioners, trade finance experts, members of academia and senior public figures scheduled to address participants at the Afreximbank Annual Meetings (AAM2023).

Other confirmed speakers include Chief Olusegun Obasanjo, former president of Nigeria; Dr. Donald Kaberuka, Chairman-Board of Directors, SouthBridge Group and Former president of the African Development Bank (AfDB); Wamkele Mene, Secretary-General of the African Continental Free Trade Area (AfCFTA) secretariat; Ambassador Albert Muchanga, Commissioner for Economic Development, Trade, Industry and Minerals, African Union Commission; Strive Masiyiwa, Founder and Executive Chairman-Econet Global and Cassava Technologies; Arnold Ekpe, Former Group CEO-Ecobank and Chairman, the Business Council of Africa and Baobab; Dr. Vera Songwe, Board Chair, Liquidity and Sustainability Facility and Former Executive Secretary-United Nations Economic Commission for Africa; and David Coffey, CEO-African Association of Automotive Manufacturers.

Also confirmed to speak are Ahmed El Sewedy, president and CEO-Elsewedy Electric of Egypt; Oussama Kaissi, Chief Executive Officer, Islamic Corporation for the Insurance of Investment and Export Credit; Florie Liser, president and CEO-Corporate Council on Africa; Kayode Pitan, CEO-Bank of Industry of Nigeria; Hani S. Sonbol, CEO-International Islamic Trade Finance Corporation; Simon Tiemtore, Chairman and CEO-Lilium Capital, and Group Chairman-Vista Bank Group; Samaila Zubairu, president-Africa Finance Corporation; Rosa Whitaker, president and CEO-The Whitaker Group; Adam Molai, Chairman-TRT Investment; and Dr. Mima Nedelcovych, Chairman-AfricaGlobal Schaffer.

The four-day AAM2023 is being held under the overarching theme 'Delivering the vision: Building prosperity for Africans', and will feature keynote addresses, panel discussions, plenaries and fireside-type conversations focusing on African trade, trade finance and development issues, including implementation of the AfCFTA.

Some of the topics listed for discussion include 'Turbo-Charging Implementation of the AfCFTA: Building Prosperity for Africans'; 'The Challenges of Peace and Security: What would it take for Africa to feed itself – Overcoming the challenges of food security for sustainable development in Africa'; 'Building Prosperity: African Culture and Literature as a Foundation for African Renaissance'; 'Delivering the Vision – Corporate Perspectives'; and 'The Future of Integration in Africa'.

Other sessions will cover 'The Benefits of Strong Continental Financial Institutions'; 'Toward a Unified Vision for the Prosperity of Africans'; 'A New Middle Passage by Africans for Africans – Strengthening interconnectivity between Africa and its Diaspora for shared Prosperity'; 'From Parents to Off-springs: Realising the Vision of PanAfricanism across Generations'; 'Sport as a new Opportunity for Inclusive Growth'; 'Lessons from History as an Opportunity for the Future – Reflections from Africa and the Caribbean'; 'Delivering Prosperity Through Industrialisation'; 'Leveraging the Power of Intra-African Trade and Commodity-based Industrialisation'; 'Leveraging the Power of Science and Technology in a Digital Era'; 'United We Stand: Deploying AfriCaribbean Resources for Sustainable Development – Perspectives from Monetary Authorities'; 'Unlocking Capital to Deliver Prosperity for Africans'; and 'Thirty Years of Making a Difference: Reflections from Former Presidents'.
Afreximbank Annual Meetings are attended by business and political leaders, banking industry professionals, trade and trade finance practitioners and other parties involved in economic development from across Africa and beyond. The Meetings, which have been ranked among the most important gatherings of economic decision-makers in Africa, are covered by African and international media.

Members of the public interested in attending AAM2023 can register at https://2023.afreximbankevents.com/register/. The detailed programme of the event will soon be available on the following webpage: https://2023.afreximbankevents.com/programme/ – Please visit the following webpage to access the list of confirmed speakers: https://2023.afreximbankevents.com/speakers/ (page regularly updated)

The African Export-Import Bank (Afreximbank) is a pan-African multilateral financial institution mandated to finance and promote intra- and extra-African trade. For 30 years, the Bank has been deploying innovative structures to deliver financing solutions which support transforming the structure of Africa's trade and accelerating industrialisation and intra-regional trade, thereby boosting economic expansion in Africa.

A stalwart supporter of the African Continental Free Trade Agreement (AfCFTA), Afreximbank has launched a Pan-African Payment and Settlement System (PAPSS) that was adopted by the African Union (AU) as the payment and settlement platform to underpin the implementation of the AfCFTA. Working with the AfCFTA secretariat and AU, the Bank is setting up a US$10billion Adjustment Fund that supports countries to effectively participate in the AfCFTA.

At the end of 2022, Afreximbank's total assets and guarantees stood at over US$31billion, and its shareholder funds amounted to US$5.2billion. The Bank disbursed more than US$86billion between 2016 and 2022. Afreximbank has investment grade ratings assigned by GCR (international scale) (A), Moody's (Baa1), Japan Credit Rating Agency (JCR) (A-) and Fitch (BBB). Afreximbank has evolved into a group entity comprising the Bank, its impact fund subsidiary called the Fund for Export Development Africa (FEDA), and its insurance management subsidiary, AfrexInsure.