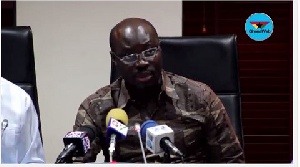 Contrary to claims by the Akufo-Addo government that it has put GHS12.2 billion into the pockets of Ghanaians since 2017, it has rather taken GHS19 billion the ordinary citizens, Ranking Member of Parliament's Finance Committee, Mr Cassiel Ato Forson, has claimed.
While admitting that the Minister of Finance, Mr Ken Ofori-Atta, "may have given some monies to ordinary Ghanaians" through the Free Senior High School (SHS) and other interventions, though he said such claims require some proof, the Ajumako-Enyan-Essiam MP indicated in Parliament on Monday, 18 November 2019 that: "Over the period, it is an undeniable fact that this administration, once again, has taken money from people's pocket".

Quantifying what he said the minister has cleverly amassed at the expense of Ghanaians, the opposition lawmaker said through taxes and levies, Ghanaians have been robbed of GHS19 billion.

To buttress his point, he said the Luxury Vehicle Tax imposed by the government accumulated GHS 60.6 million while the extension of the National Fiscal Stabilisation Levy and the Special Import Levy generated GHS400 million between 2017 and 2019.

Furthermore, Mr Forson revealed that the Communication Service Tax, which was adjusted upward by 50 per cent added GHS170 million to the government's kitty.

Additionally, Mr Forson revealed that the separation of the National Health Insurance Levy (NHIL) and the GETFund Levy from the Value Added Tax (VAT) increased the number of taxes that Ghanaians now pay. These, he said, yielded some GHS2.6 billion.
In his opinion, the frequent increase in the price of fuel and its resultant effects on goods and transportation robbed Ghanaians of GHS5 billion.



"Our Minister of Finance has taken about GHS19 billion from the pocket of the ordinary Ghanaian and you are telling me you have given Ghanaians 12.3 billion. Mr Speaker, this statement must be subjected to strict proof", he told Parliament on Monday, 18 November 2019 as the House began debating the 2020 Budget and Economic policy.

"You have taken more than what you have given to the ordinary Ghanaian," he emphasised, adding: "The hardships are real".