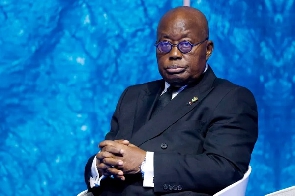 President Nana Addo Dankwa Akufo-Addo has made a passionate appeal to the International Monetary Fund and the World Bank to provide Ghana with concessionary loans to help revive the ailing economy.
According to him, the loan facility is critical to the private sector which has been negatively impacted by the current economic challenges.

Making remarks following a visit from the Director General of the World Trade Organization, Dr Ngozi Okonjo-Iweala to Ghana, president Akufo-Addo said the concessionary loans could be granted on more favourable terms compared to what the borrower could obtain in the marketplace.

He explained that the terms could also be based on a lower interest rate or deferred repayments.

President Akufo-Addo on his part shared that the current challenges in the economy have made it difficult for Ghana to gain access to the international capital markets for borrowing hence the decision to seek IMF assistance.

Meanwhile, the WTO Director-General, Ngozi Okonjo-Iweala in remarks noted that struggling countries in Africa for instance, must begin to readjust their economic infrastructure to address their challenges.

"But we are also urging at the WTO that we do something we call re-globalisation, that we use this opportunity, if we want to build resilience in certain global supply chains to look at others, other developing countries as possible places where manufacturing can also take place," Dr Okonjo-Iweala said.
"I think these are some of the things that Ghana should consider, Ghana is a much-loved country and I think that your ability to attract investment should be something very important for you to talk to several of these global supply chains to see if they can also consider Ghana as a possible destination," the WTO boss advised.

Watch the latest edition of BizTech and Biz Headlines below:







MA/FNOQ