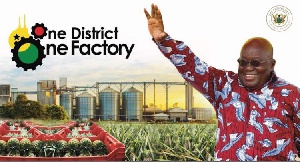 Unconfirmed reports from sources close to the seat of government indicates that the current administration's flagship programme, '1-village 1-dam', is likely to take off in Lawra in the Upper West Region of northern Ghana.
Hon Anthony Abayifa Karbo, Member of Parliament for Lawra who also doubles as the Deputy Minister for Roads and Highways, gave the hint when reached on the issue on Monday,

The 1-Village, 1-Dam programme was one of the most touted programmes in the manifesto of the Governing New Patriotic Party (NPP) in the lead up to 2016 elections.

Then candidate Nana Addo Dankwa Akufo-Addo, promised to commence the policy in every village in the northern part of the country to boost agriculture and in the end make Ghana a net exporter of most foodstuff.

Government, earlier promised to start constructing the dams during the dry season last year, but reneged on its word.
However, Peacefmonline.com is reliably informed that the policy is set to roll in the Northern part of the country in a couple of weeks, ahead of the rainy season, following the conclusion of feasibility studies and consultative forums.

Speaking in an interview with Kwami Sefa Kayi on Peace FM morning show 'Kokrokoo', Hon Karbo hinted that President Akufo-Addo might commission the first set in Lawra.

"I heard over the weekend that the President will be coming to Lawra to commission the first set of dams. The Vice President also at a festival in Tumu reiterated that the one village one dam will commence by March ending. The one village one dam will prevent rural migration, job creation and other major problems facing the northern sector…so far, all the engineering analysis have been completed" he indicated.