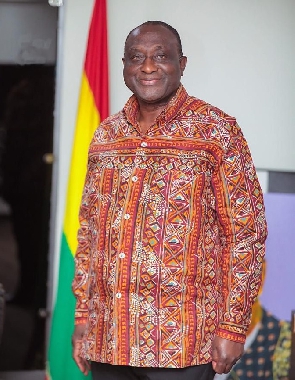 Trade and Industry Minister, Alan Kyerematen has urged Ghanaians to trust in the prudent management of the economy as it has despite the odds coped better than peers amid the global economic crisis.
He said despite the difficulties the country faced in 2022, the measures put in place with assistance from the International Monetary Fund (IMF) would help turn things around for the better.

Speaking at the Calvary Charismatic Church in Kumasi, the Minister urged Ghanaians to be hopeful of the future as 2023 held a lot of promise.

He chronicled the woes of other countries across

the globe as against the current state of Ghana.

He thanked God for His Mercies on Ghanaians at a time globally revered economies were on their knees.
"Find out from even the most advanced countries like UK, United States of America, Germany or France, from north to south, east and west, go and find out some were queuing for bread, petrol and cooking oil. These are even rich nations, but for God's grace we never queued for petrol.

"This was not because of our might or knowledge or government power, it was by the grace of God", the Minister said and asked Ghanaians to be thankful to God for His mercies bestowed on us.

Mr Kyerematen ended 2022 with prayer visits to Faith Gospel Church, Family Chapel International, St Cyprian Anglican Cathedral and Calvary Charismatic Church (CCC) to usher in 2023.

He has recently commissioned a number of factories in the last few weeks to crown his dream