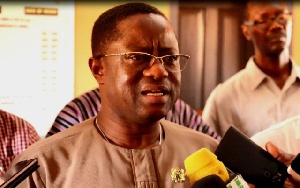 Mr. John Peter Amewu, the Energy Minister, on Monday said he would hold further engagement with managers of the Africa and Middle East Resources Investment Group (AMERI) on the power plant deal before government takes a final decision.
He said the engagement would be done in an open and transparent manner to ensure that Ghana gets value for money.

Mr. Amewu made this known to the media when he handed over the necessary documents to Mr Kwaku Asoma Cheremeh, the Lands and Natural Resources Minister, in Accra.

The previous AMERI power deal was agreed in February 2015, under the erstwhile John Mahama's Administration, to build, own, operate and transfer the power plant with 10 gas turbines, producing a guaranteed output of 230MW at the cost of US$510 million for five years.

However, the re-negotiation of the deal by the current government led by the then Energy Minister, Mr Boakye Agyarko, raised a lot of controversy and public outcry, leading to the dismissal of the Minister.

Mr Amewu said government was committed to protecting the public purse and would ensure that Ghanaians benefit in all deals.
"My administration is going to engage AMERI and get what is best for this country, but the engagement process would be done in more open and consultative processes," Mr Amewu said.



The Minister noted that debts by the ministries, agencies and departments constituted about 60-70 per cent of the total public debt and called for steps to resolve the debt burden.

Commenting on the two per cent fuel hikes, which took effect from Saturday, August 18, Mr Amewu noted that, when international prices of crude oil increased, it must reflect on the local market, saying; "This is just a marginal increment and eventually it was expected, but when we do a long-term projection, we don't expect this thing to continue".

The Minister cautioned those engaging in illegal electricity connection that, his outfit would soon descend on them heavily, saying that the energy was the backbone to any government's industrialization drive, therefore, it would plug the loopholes in the sector, especially illegal power connection.
Mr Amewu urged all stakeholders including the media to support the government's efforts to halt the menace, adding; "just as you did in the galamsey fight, we need the media to fight illegal power connection as well".

He warned district managers who were unconcerned, while illegal power connection was taking place under their nose to sit up, saying; "If we are able to flush out those illegalities, of course, we will see that the energy sector debts will gradually reduce".



The Minister also assured that the Ministry would work consciously to minimise transmission losses, which was in excess of 300 per cent and called on electricity consumers using high consuming generators to switch to gas