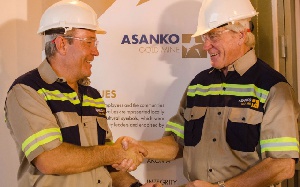 Asanko Gold Inc. (TSX:AKG)(NYSE MKT:AKG) has confirmed its 2017 production guidance of 230,000 - 240,000 ounces at All-in sustaining costs of US$880 - US$920 per ounce, following a successful first year of operations at the Asanko Gold Mine in Ghana, West Africa.
The substantial increase in production guidance, above the original Feasibility Study target of 190,000 ounces per annum, is the result of the processing plant operating at 20% above design capacity and gold recovery rates in excess of 94%, well above design levels of 92.5%.

2017 has had a strong start to the year with just over 38,800 ounces of gold produced during January and February.
The Company will host a conference call and webcast on Thursday, March 16, 2017 at 9am EST to discuss 2016 Q4 and annual financial and operating results.