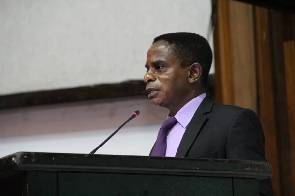 Twenty-one Met­ropolitan, Municipal and District As­semblies (MMDAs) paid a total of GH¢499,671.94 to various contractors for no work done between 2018 and 2021, the Auditor-General (A-G) has revealed.
The Coordinating Directors, Finance Officers and the Works Engineers who recommended and approved the payments are to recov­er the money else they would refund it themselves.

This was contained in the Consol­idated Performance Audit Report of the A-G on capital projects of 30 se­lected MMDAs funded through the District Assemblies Common Fund – Response Factor Grant (DACF-RFG) between 2018 and 2021.

The MMDAs include Atwima Kwanwoma, GH¢37,750; Of­finso, GH¢ 12,516 ; Ejisu, GH¢ 2,418; Nzema, GH¢ 880; Sunyani , GH¢8,315; Sanarigu, GH¢18,190; Chereponi, GH¢41,956; Achiase, GH¢ 9,643; Asene Manso Akroso, GH¢2,900; Northeast Gonja, GH¢ 1,680 ; Keta, GH¢ 133,700 and Mfantsiman, GH¢5,888.

The rest are Komenda-Edi­na-Eguafo-Abirem, GH¢ 11,851.04; Hohoe, GH¢3,220; Kintampo South, GH¢ 57,925; La Nkwantanang Madina, GH¢ 26,134; Sene West, GH¢ 98,013; Suame , GH¢ 3,936; Wa, GH¢ 2,366; Juaboso, GH¢ 19,102 and Effia Kwesimintim, GH¢ 1,288,90.

The Asutifi South, Dormaa Central, Bawku, Adentan, Nanum­ba South, Abuakwa South, Tema, Jasikan and Ada East District, were the nine MMDAs which were not flagged for the offence.

The DACF-RFG is the propor­tion of the DACF allocated to the MMDAs based on their performance plus contribution of development partners that support the perfor­mance-based grant system.
The audit was focused on selected projects in the aforementioned MMDAs between 2018 and 2021 to determine if they met the required standard specifications and guaran­teed value for money.

According to the report, sub­mitted to parliament in May last year, the GH¢500,000 paid to the contractors were released upon recommendations of work engineers and approved by the coordinating di­rectors in the assemblies in violation of clauses 16, 33, 36 and 37 of the conditions of contract and Section 7 of the Public Financial Management Act, 2016 (Act 921).

For instance at the Keta Assembly, furniture valued at GH¢133,700.00 could not be accounted for although the assembly had paid fully for them and although a list covering the distribution of 322 desks, amounting to GH¢109,447.20 was shown as evidence of receipt, the team could not vouch for the supplies.

In another instance, Kintampo South paid GH¢57,925 for no work done to construct a school block and provide five boreholes, whilst Sene West District Assembly was short-changed by GH¢98,013.69 for a reduction in the size of a Commu­nity Health-based Planning Services (CHPS) compound.

Additionally, the audit also found out that Mfantsiman and Hohoe Municipal Assemblies, paid GH¢1,067,188 to contractors with­out supporting documents, whilst Dormaa Central, Bawku and Sunyani paid GH¢1,764,520 to contractors without recourse to internal audit pre-audit requirements.

These infractions, according to the report, were as a result of inadequate supervision.
According to the report although most of the works engineers had Higher National Diplomas in Con­struction Management and some have upgraded themselves with mas­ter's degrees in construction, their "output has been unsatisfactory."

"The general excuse of lack of logistics to visit project sites is not tenable as an efficient scheduling of projects supervision during critical activities would have sufficed. The works engineers were absent at critical stages of construction and district coordinating directors failed to ensure that they performed their functions.

"The consequences for these lapses in supervision resulted in payments to contractors for no work done which is detailed under payments of works in this report," the report said.

The Ministry of Local Govern­ment, Decentralisation and Rural Development, in its response to que­ries of the audit team, promised to ensure the officers in charge recover the monies.

Although the audit team found out that DACF RFG funds had signifi­cantly contributed to the infrastructure development of the districts, there was more room for improvement in the management of funds, planning and budgeting, supervision, coor­dination among stakeholders, and training for staff.