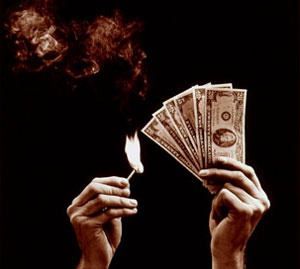 Fri, 8 Jun 2007 Source: GNA
Kumasi, June 08, GNA - The management of Bank of Ghana (BOG) has begun destroying the current cedi notes that come into its vaults. The measure is to create space at the bank's vaults for the new Ghana cedis, which would be in circulation from July 1, this year. Mr Chris Apau Oppong, Ashanti Regional Manager of the bank, who announced this said over 700 billion cedis worth of the bank's notes had already been destroyed in Ashanti Region alone.

He was speaking at the Ashanti Regional branch of Agricultural Development Bank (ADB) public education campaign on the re-denomination exercise in Kumasi on Friday.


Mr Oppong said all the current bank notes that went to the bank would not be returned into circulation. He urged the banks to take advantage of the re-denomination exercise to encourage non-accounts holders to open accounts with them in order to mob up all cash into the banking system.


Mr Oppong said BoG intended to reduce the use of cash in business transaction in the country and appealed to banks to intensify efforts to get more people to open accounts with them.


He said the bank had constituted a monitoring team to monitor and address all issues and concerns that would come out after the introduction of the new cedi notes.

Mr Kwame Owusu-Kodua, General Manager, Banking Services of ADB, said the bank had established currency exchange centres in all its branches and agencies to assist non-accounts holders to exchange their monies.


He said the bank was changing its cheque books to reflect the new currency and advised customers to start requesting for new cheque books to facilitate their transactions.


Mr Owusu-Kodua advised customers of the bank not to rush to change their currencies since they would automatically receive new currency notes after July 1.


He said the re-denomination would reduce the cost of carrying huge volumes of notes, reduce long queues at the banking halls, promote efficiency in payment system, simplify account records and reduce the culture of using notes in the country. 08 June 07

Source: GNA