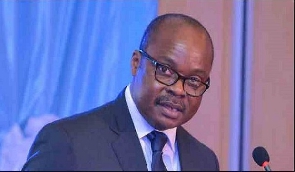 The central bank's report gave the breakdown as follows; the total cost of printing was around GH¢146.7 million while an amount of GH¢2 million was paid as agency fees with more than GH¢4 million spent on other expenses.
According to Citinewsroom.com, the expenditure also includes the fees paid to the agency that supervised the printing process, the actual cost of printing the legal tender, and other currency expenses.

The BoG spent 33% less in printing the country's legal tender in 2018 as compared to the GH¢224.7 million costs incurred in 2017 to print the same.

Statistics by the BoG further revealed that, since 2012, the cost of printing the legal tender has moved from GH¢7.4 million to about GH¢146.7 million, representing a more than 1,880% growth over the period.

Cumulatively, between that period, the Bank of Ghana has spent in excess of GH¢776.2 million in the actual cost of printing the cedi.

Meanwhile, agency fees paid during the period under review has gone up from GH¢769,000 to about GH¢2 million.
He told the media at a press briefing that a lot of thinking went into the decision to introduce the higher denomination banknotes.

According to the governor, the introduction was aligned well with the needs of the people.

"We need banknotes and coins that are convenient for most people to use, high quality, secure and cost-effective. Accordingly, in March 2017, the Bank of Ghana begun a process of conducting a thorough review of the structure of the currency including on the note/coin boundary and acceptability and use of the individual currency series," Dr Addison said.

It is, however, not yet known how much it cost the central bank to print the new GH¢100 and GH¢200 and GH¢2 coins.