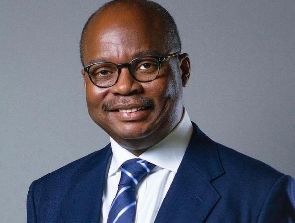 The Bank of Ghana (BoG) Governor, Dr. Ernest Addsion, has announced a reversal of the cash reserve ratio on local currency deposits for banks, raising it from 12 percent to 14 percent effective April 13 as part of measures aimed at addressing the mopping-up of excess liquidity in the market,
The banking industry regulator had in December announced a drop in the ratio to 12 percent, as part of a raft of measures aimed at cushioning banks participating in the domestic debt exchange programme (DDEP).

The BoG had, after an emergency meeting in September, decided to gradually increase the primary reserve requirement of banks from 12 percent to 15 percent. This was executed in three phases – with the first phase starting on September 1, 2022 at 13 percent, followed by 14 percent on October 1, 2022, and finally reaching 15 percent by November 1, 2022.

This came after a 400 basis points (bps) upward adjustment was announced in March last year, which took the rate above the pre-pandemic level of 10 percent and was projected to take as much as GH¢6billion in liquidity off the market.

However, in his remarks at the conclusion of the 111th Monetary Policy Committee (MPC) meeting, the central bank chief stated that the move had become necessary to maintain stability within the financial sector.

"The Committee also decided to reset the cash reserve ratio on domestic currency deposits for banks from 12 percent to 14 percent, effective 13th April 2023… The Committee will continue to monitor developments in the banking sector and deploy other macro prudential tools to ensure financial stability," Dr. Addison explained.
He added that additional measures will be deployed in order to tackle the surplus liquidity situation prevailing in the market.

Industry review

Despite the challenges faced, the banking industry's total assets grew by 16.4 percent to GH¢209.4billion in December 2022, reflecting sustained growth in deposits and exchange rate variations on banks' balance sheets.

Total investments, on the other hand, declined by 22.1 percent to GH¢64.8billion in December 2022, while total credit increased by 28.5 percent to GH¢69.1billion during the same period.

The industry's minimum capital adequacy ratio (CAR) was reduced from 13 percent to 10 percent as of December 31, 2022, and losses from the DDEP are to be reflected in the computation of CAR over a period of up to three years. Consequently, the industry's average CAR – adjusted for regulatory reliefs – was 15.7 percent in December 2022; down slightly from 16.6 percent in December 2021 due to losses on investments.
The non-performing loans (NPL) ratio was 15.1 percent in December 2022, akin to the 15.2 percent recorded at the end of 2021; and was attributed to "higher growth in credit, which outpaced the growth in the NPL stock".

Dr. Addison noted that banks' external auditors are currently completing audits of commercial banks' 2022 financial performances and making necessary adjustments to fully reflect the DDEP impact.

The audited financial statements are expected to be published by the end of April 2023, following a one-month dispensation granted by the BoG.

The MPC will continue to monitor domestic and international developments that could impact Ghana's macroeconomic stability and respond proactively to any risks that may arise, he added.

He reiterated that the Committee remains committed to achieving its core mandate of price stability and financial stability to promote sustainable economic growth and development.