Wed, 30 Jan 2019 Source: Michael Creg Afful
The Electricity Company of Ghana Ltd. (ECG) has extended the installation of prepayment metering to Kibi in the Eastern region.
The company has allocated over 4000 Mugi Bhagu Harish (MBH) prepaid meters for the replacement of existing post-paid meters in Kibi.

The project, which is fully funded by ECG, started in January this year and it is expected to be completed in March 2019.

Briefing some customers in Kibi on the project, Mr. Yusif Adamu, the Project Engineer for MBH Metering System stated that the uniqueness of the MBH prepaid meters lies in the use of the keypad operator rather than the card, which requires customers, to swipe or insert to load credits.

He explained that the meters are linked to a separate User Interface Unit (UIU) which can be used by customers to manually operate the meter and that customers do not have to go to their meters to monitor their units.

He said the UIU is installed at accessible locations in the customers' premises.
Mr. Adamu stated further that the meters are GPRS compliment which enable purchases to be remotely credited to the meter from the point of sale.

He added that the meters have special features to detect illegal connection and disconnect customer from supply and the ability to record customer consumption.

According to the Project Engineer, vending points to serve customers have been commissioned in the Kibi district Office of ECG and some parts of the town to enable customer vend at any point in time.

He indicated that the project would be extended to other communities as the project progresses.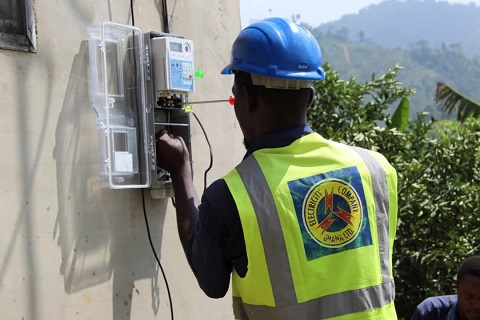 He stated also that customers as well as prepaid vendors in Kibi have been educated on the use of the new meter.

On his part, Ing. Louis Nutsugah, the ECG District Manager for Kibi expressed excitement over the project and said it will help the company to improve on revenue collection in the district.

He also said customers would now have control over the amount of power they consume.

Mr Nutsugah who said his outfit had put in place a comprehensive plan to ensure the success of the project assured all customers of quality services.

Mr. Bernard Asare, who is the first customer to be connected to the prepayment metering system in Kibi, applauded ECG for the initiative, stating that it would enable him to estimate the amount of money he would want to commit to electricity every month.
Source: Michael Creg Afful
Send your news stories to and features to . Chat with us via WhatsApp on +233 55 2699 625.