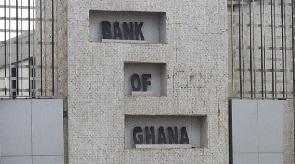 The Bank of Ghana has announced that it has fined and suspended the forex license of fin-tech company, Zeepay Ghana Limited for breaching clause 7.3(a) of the Inward Remittance.
The Central Bank made the statement in a communique signed by Secretary of the BoG, Sandra Thompson, and copied to GhanaWeb Business.

According to the forex regulation, clause 7.3(a) states that the settlement bank shall "use the average interbank exchange rate published by the Ghana Association of Banks on the day the transfer is received or as prescribed by Bank of Ghana for the conversion of settlement funds into local currency".

Following the non-compliance by the Ghanaian-owned business, the BoG has "suspended the Forex Licence of Zeepay Ghana Limited from 27th November 2023 to 8th December 2023, for violation of sections 3(1) and 15 (3) of the Foreign Exchange Act, 2006 (Act 723)," the statement detailed.

The statement further cautioned industry players to adhere to the applicable forex market regulations and guidelines strictly.

Below is the full statement by Bank of Ghana:


NOQ

Watch the latest edition of BizTech below:



Click here to follow the GhanaWeb Business WhatsApp channel

Ghana's leading digital news platform, GhanaWeb, in conjunction with the Korle-Bu Teaching Hospital, is embarking on an aggressive campaign which is geared towards ensuring that parliament passes comprehensive legislation to guide organ harvesting, organ donation, and organ transplantation in the country.