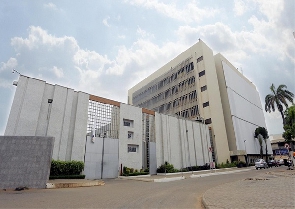 The Director of Research at the Institute of Economic Affairs, John Kwakye, has clapped back at the Bank of Ghana after it justified its lending to the government.
The Bank of Ghana refuted claims that it had breached the fiscal responsibility act whiles explaining that the act had been suspended in 2018.

A statement from the Central bank on February 9, 2023, said "It must be recognized that the ongoing debt operations are part of the corrective measures designed to address the financing problem of the budget. Bank of Ghana financing was part of a crisis management tool used in dealing with the difficulties of 2022.

"In 2018, the Parliament of Ghana suspended the Fiscal Responsibility Act, 2018 (Act,982) in view of the crises precipitated by the COVID-19 pandemic. The Fiscal Responsibility Act has not yet been reinstated by Parliament," portions of the statement read.
However, John Kwakye explained that the Bank of Ghana stipulates that the bank must only lend 5% of the previous year's revenue to the government.

"It is the Fiscal Responsibility Act that was suspended, not the BoG Act, which limits the Bank's lending to Gov't to 5% of the previous year's revenue. The 2022 lending of 44 bn breached the ceiling of 3.5 bn, being 5% of 2021 revenue of GHc70bn," he wrote on Twitter on February 11, 2023.

SSD/FNOQ