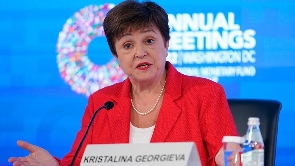 The International Monetary Fund has called on the Bank of Ghana to ensure its policy mandates are upheld and implement stringent measures to tame inflation back to its designated target of 8-percent.
In a post captured on its website, the IMF said the Bank of Ghana's income is however expected to be sufficient to cover monetary policy operational costs.

"The BoG's net equity is expected to improve significantly over time and eventually return to positive territory," the IMF added.

The IMF also upheld the position held by the Bank of Ghana in the wake of impairment losses it incurred in 2022.

The Bretton Wood institution said the loss was due to the Central Bank's participation in government's Domestic Debt Exchange Programme (DDEP) which aims to restore macroeconomic stability and bring debt levels to a sustainable position.
"The loss the BoG incurred in the process has contributed to reducing its net equity to a negative value. Importantly, however, this does not prevent the BoG from fulfilling its policy mandates and ensuring inflation gradually returns toward its 8-percent target," the IMF said on its website on August 10, 2023.

The Central Bank on its part has attributed the impairment losses to marketable instruments, non-marketable instruments and COCOBOD loans stating that the Bank was subjected to about 50 percent of the haircuts associated with the DDEP.

MA/NOQ