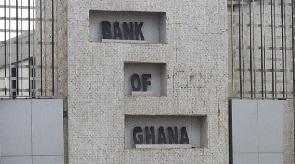 Director of Research at the Institute of Economic Affairs (IEA), Dr. John Kwabena Kwakye, has stated that the Bank of Ghana's act of lending "excessively" to the government cannot be justified.
According to him, BoG can provide the governmnet with some relief when the need arises but this should not be frequent and should not be a temporary measure.

John Kwakye further explained that according to the dictates of the Banks Act, those reliefs should be repaid within 3 months.

On his Twitter page on Friday, February 10, 2023, he wrote: "BoG's rejoinder cannot justify the scale of their lending to Govt. The Bank can provide temporary advances to Gov't. But they should be limited and repayable within 3 months per the Bank's Act. Lending 44 bn in 2022 far exceeded the 3.5 bn celling."

The Bank of Ghana (BoG), meanwhile, had justified its decision to print over GH¢40 billion for the government to finance the 2022 budget.

According to BoG, it was left with no option but to support the government because its (the government's) access to International Capital Market was closed and the domestic market was also struggling.
In a statement issued on Thursday, February 9, 2023, the central bank posited that its action was not wrong since the Fiscal Responsibility Act, 2018 which was suspended by the Parliament of Ghana had not been reinstated.

"… it will be important to recall the circumstances under which Government of Ghana decided to seek IMF support. Ghana had lost access to the International Capital Market, and domestic revenue was significantly underperforming and not realized, pushing the state of government finances into near external and domestic default.

"With the above, the policy choices were not that of business as usual but rather a more challenged conduct of macroeconomic policy in the context of crisis. The government needed to finance critical expenditures for which Bank of Ghana needed to provide the necessary financing to avert a disorderly default of both servicing for domestic and external debt including financing critical imports to keep the economy on the stable path," parts of the statement read.


https://t.co/zeCV2ta0ul. BoG's rejoinder cannot justify the scale of their lending to Govt. The Bank can provide temporary advances to Gov't. But they should be limited and repayable within 3 months per the Bank's Act. Lending 44 bn in 2022 far exceeded the 3.5 bn celling.

— J. K. Kwakye (@JohnKwabenaKwa1) February 10, 2023
SSD/FNOQ