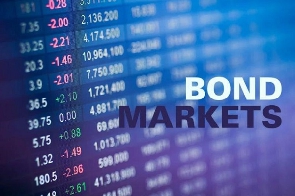 Despite a difficult start to the year, the bond market saw a slight improvement last week – with trading volumes increasing by 344 percent from GH¢581million to GH¢2.58billion.
The Domestic Debt Exchange Programme (DDEP) extension expectedly provided some holders with an opportunity to rebalance their portfolios, as well as allow investors time to decide whether or not to participate in the Programme.

Instructively, investors' preferences shifted toward short and long-term papers – with February 2023 coupons of 16.50 percent being actively traded and settling at 46.97 percent, while August- 2039 with coupons of 20.20 percent cleared at 42.12 percent.

As the Debt Exchange Programme deadline draws near, market activity is expected to be muted this week as investor mull over participation in the market. This will be dependent on government's updated memorandum for the DDEP. The upcoming deadline will also be a key factor to watch as the market continues to evolve.

Government's decision to extend the Programme's deadline has been met with mixed reactions; some analysts praising the move as a way to increase participation while others have termed it a sign of indecision.

Despite this, the market appears to be optimistic about the future as investors continue to show interest in long-term papers.

In order to help the country obtain US$3billion in economic aid from the International Monetary Fund, government aims to have 80 percent of investors participate in the DDEP.
Through the Paris Club – a group of creditor nations, the Treasury is corresponding with bilateral creditors as well; in an effort to secure a restructuring agreement before the end of February. Members of the Paris Club have agreed to set up a committee of creditors to talk about debt-relief options for Ghana.

S&P downgraded Ghana's Eurobond for January 2026 from CC to D [selected default] – since government did not pay the coupon due on January 18 as a result of the nation's decision to stop making interest payments on its external debt last month. Ghana failed to pay the required US$40.63million in interest on the January 2026 maturity.

Uncertainty strains risk appetite in primary market

The Treasury fell short of its auction target last week, with investors tendering only GH¢1.93billion across the 91 to 364-day bills – missing the target size of GH¢2.42billion. This resulted in a deficit of 20 percent.

The total bids accepted were insufficient to cover the GH¢2.22billion worth of bills that matured on Monday, January 23, 2023 – resulting in a deficit of 13 percent.

Uncertainty surrounding the Debt Exchange Programme appears to have strained risk-appetite on the market. Despite the Finance Minister's reassurance that Treasury bills are excluded from the Programme, investors remain cautious.
Treasury yields were also erratic last week, with the 91-day bill surging by 17 basis points (bps) to 35.63 percent. In contrast, the 182 and 364-day bills fell by 2bps and 36bps to settle at 35.81 percent and 35.56 percent respectively.

The Treasury plans to raise a total amount of GH¢1.28billion across the 91- to 364-day bills next week, in order to refinance a sum of GH¢1.07billion in short-term papers due next week. The auction is scheduled for Friday, January 27, 2023.

The market anticipates that the Treasury will meet its target in the upcoming auction, given the smaller target size. However, a further downside in money market yields is expected.

The market continues to be uncertain and investors are keeping a close eye on developments, particularly regarding the controversial Debt Exchange Programme. Government's efforts to reduce the country's debt burden are commendable, but investors must also be mindful of the potential risks and uncertainties that come with it.

The next few weeks will be crucial in determining the primary market's direction during the coming months.