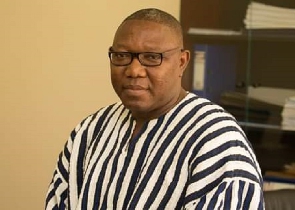 Member of Parliament for Builsa South, Dr. Clement Apaak, has lashed the Akufo-Addo and New Patriotic Party (NPP) government for failing to engage in stakeholder meetings before the Debt Exchange Programme (DEP).
He rubbished comments from some government officials that the situation would have been worse if former President John Dramani Mahama and NDC were in office.

"Nonsense, rather than Nana Addo and NPP taking responsibility for the worse economic crisis ever, due to their reckless borrowing, crass mismanagement and barefaced corruption, their lame and untenable excuse is "oh, it would have been worse if JM or NDC was in charge" really, Nonsense!"

"Shouldn't consultations and negotiations with stakeholders have been done way back to inform the way forward in terms of the debt restructuring? The Nana Addo and NPP government you will agree, has a penchant for doing consultations only when there is a push back or resistance," Mr. Apaak stated in a tweet.

He continued: "It's now clear that government didn't have a plan before going to the IMF. Citizens and experts advised that a national stakeholders forum be held on the economy to inform best options, and to agree on a plan to the IMF, they refused. Are you surprised we are where we are?"
The government has set up a joint technical committee comprising representatives of the Ministry of Finance and leaders of individual bondholders after some agitation from the Individual Bondholders Forum.

The team is expected to commence work on Thursday, January 19, 2023.

"The engagement will be continued to make sure that we all understand where we are and what we have to do to go forward and as we indicated, get on a common path as we mentioned. A technical committee will be set up and will consist of two members from the individual bondholders' forum, and we will have our first meeting on January 19, 2023,″ the Minister for Finance, Ken Ofori-Atta stated.