The Chamber of Bulk Oil Distributors (CBOD) has donated GHC 50,000 to the Burns Unit of the 37 Military Hospital.
The donation is intended to aid the hospital upgrade the unit to modern standards to facilitate the treatment of patients.

CEO of the group, Senyo Hosi, made the donation to the hospital on Friday, as part of the company's corporate social responsibility and assured them that such donations will be done annually.

He said that the Burns Unit had been identified as one of the departments in most need of resources to treat victims of fire outbreaks and explosions, especially those caused by petroleum.

In the wake of persistent fire outbreaks and explosions across the country, Mr Hosi hoped that the donation would help cushion the hospital's cost for treating victims, some of whom have been in the hospital for months because of their inability to foot their bills.

"The unit is critical to both our industry and the entire citizenry and there is a need to support them to be well resourced to support the victims," he said.
The Burns Unit of the 37 military hospital has made been featured prominently in the news recently in the wake of explosions and fire outbreaks across the country.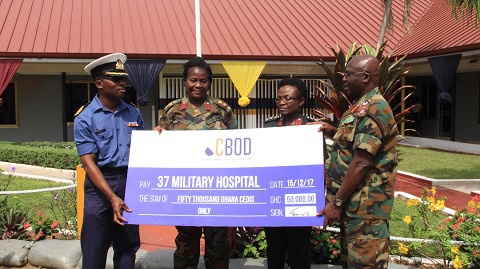 Commander of the hospital, Brigadier General M.A Yeboah Agyapong, who accepted the donation on behalf of the outfit said the money would be used judiciously.

He appealed to other organizations to take a leaf from the pages of the CBOD to support the military hospital.

The head of Plastic Surgery and Burns, Commander Kwasi Osafo Nsaful, also expressed gratitude to CBOD.
"Better results should be expected from treatments now," he said.

Watch this