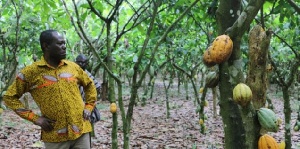 Chief Executive Officer of the Ghana Cocoa Board (COCOBOD) Joseph Boahen Aidoo has raised concerns regarding the extent to which the Cocoa Swollen Shoot Virus (CSSVD) has infested farms in Ghana.
Mr Aidoo made this observation during his tour of some cocoa farms in the country.

The tour aimed to acquaint  Mr. Aidoo on the situation of cocoa farms in the country, after the introduction of the Hand pollination exercise in the Western South and North cocoa growing areas in the country .

He expressed disappointment at the state of CSSVD infestation when he was greeted with it as well as pest infestations on some  cocoa farms.
Mr. Aidoo was  also accompanied on the familiarization tour by the directors of the various COCOBOD subsidiaries: Cocoa Health and Extension Division (CHED) and Seed Production Division (SPD).

He used the opportunity  to discuss with some subsidiary heads  actions to be taken immediately and also design a rehabilitation program.

Aidoo also urge them to take samples of the diseased pods for further studies to arrive at the appropriate interventions.