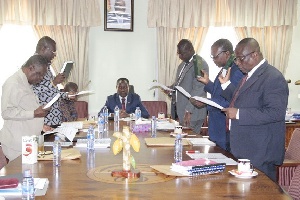 Sun, 1 Apr 2018 Source: Kenneth Osei Ampofo
A five member Audit Committee for Ghana Cocoa Board (COCOBOD) has been inaugurated in accordance with section 87 of the Public Finance Management Act 2016.
The committee was inaugurated by the Chief Executive, Hon. Joseph Boahen Aidoo on behalf of the Chairman of the Board of Directors, Hon. Hackman Owusu Agyemang at the Cocoa House in Accra on Thursday 22nd March, 2018.

The committee is to oversee the management of financial resources of the Board in line with financial management regulations governing state institutions.

The committee is chaired by Mr. Thomas Thompson Ashley Aryee, a chartered accountant who has over fifteen years of post-qualification experience and holds a Master of Business Administration Degree as well as member of the Institute of Chartered auditors. He is currently the Deputy Director General of the Internal Audit Agency in-charge of Finance and Administration.

Other members of the committee include Mr. Kwame Sarpong, a former Chief Executive of COCOBOD, who is currently a Board member and a consultant and Dr. Samuel Odartey Lamptey, acting Chief Executive of Cocoa Inputs Company Limited, a Chartered Accountant who holds a PhD in strategic management.

The rest are Rev. Emmanuel Ackom, head of internal audit at Ghana AIDS Commission, a past council member of the Institute of Internal Auditors and a member of the Institute of Charted Accountants Ghana, and Hon Carlos Kingsley Ahenkorah, a Deputy Minister of Trade and Industry and a member of Board of Directors of COCOBOD.
Speaking on behalf of the Board Chairman, Hon Joseph Boahen Aidoo called on the committee to apply their professionalism in the discharge of their duties.

"With the inauguration of the audit committee, I am hopeful that you will ensure that the Board continues with better audit practices and create a high standard for itself in financial management", Hon. Aidoo stressed.

The Chairman of the Audit Committee, Mr. Thomas Thompson Ashley Aryee in his acceptance statement mentioned that they will ensure that COCOBOD does not appear before any institution for bad financial management.

"Having selected us to see to the auditing of COCOBOD, be rest assured that the Board will not appear before Public Accounts Committee hearing ", he added.

The committee assumes office with its members having a wealth of expertise in financial prudence.
Source: Kenneth Osei Ampofo