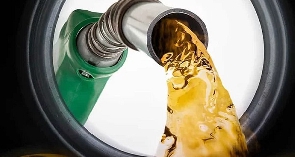 Consumers of petroleum products are likely to witness a drop in prices during this week.
According to the Chamber of Petroleum Consumers, Ghana (COPEC), the possible decline can be attributed to government securing and distributing products from its 'gold-for-oil' policy to Oil Marketing Companies.

Executive Director for COPEC, Duncan Amoah, however, wants the distribution of the commodity to be expedited to allow prices to decline and cushion consumers.

"The numbers pertaining to this gold-for-oil policy are very crucial. If it doesn't solve the escalating fuel price situation, and it doesn't solve the cedi depreciating, then we should stop the politicians from meddling in fuel or trading completely," he is quoted by citinewsroom.com.

"Because that will not be the situation Ghanaians are clamouring for. The numbers they will put up for the coming week will determine whether we are able to stimulate the market downwards or we are able to sustain prices where they are. Or there are some benefits to be derived as a people. If there are no benefits, then it will be difficult to go to the Bank of Ghana (BoG) to ask for money to trade in oil, we will be burnt on all sides," Duncan Amoah added.

Meanwhile, the price of petroleum products has increased in the second pricing window of January which took effect on Saturday 21, 2023.
The development has since been attributed to the recent depreciation of the cedi against major trading currencies despite witnessing some appreciation during the festive period in 2022.

To mitigate the situation, government has taken delivery of the first consignment for its 'Gold-for-Oil' policy for about 41,000 million metric tons of petroleum products.

The petroleum products are expected to be discharged and sold by state-owned enterprise BOST to Bulk Oil Distributing Companies (BDCs) across the country.

Vice President, Dr. Mahamudu Bawumia, in November 2022 first announced government's plan to undertake the gold-for-oil initiative. The deal was hinged on buying oil products with Ghana's gold instead of the US dollar.

Dr. Bawumia on Facebook earlier explained that the usage of gold to purchase oil would also address Ghana's dwindling foreign reserves as well as reduce demand for US dollars by oil importers.
"It will fundamentally change our balance of payments and significantly reduce the persistent depreciation of our currency," the Vice President earlier wrote.

Under the policy, government believes that using gold to purchase oil products would also bring stability to the exchange rate market and ensure domestic oil operators do not solely depend on foreign exchange to import products.

MA/FNOQ