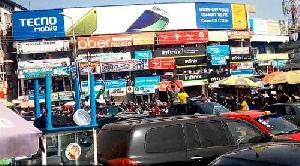 The Ghana Union Traders Association (GUTA) says the one-week ultimatum it has given government to evict foreign nationals engaged in retail trade is not a retaliatory measure to the closure of Nigerian border.
According to the National Organiser of the association, the move may rather become necessary due to the result of government's silence on the border closure adding that they will only reopen locked up shops for the foreign retailers to clear their goods.

"It is not a retaliatory measure but we are giving government this one-week ultimatum because whenever we raise this matter, we have realised that government just 'drags its feet' to sit with us just to buy time"

"We have gone to all the necessary bodies including, the Parliamentary Select Committee on Trade, Council of State, the Ghana Investment Promotion Centre and even to the President. We have gone through all the right channels and still nothing is being addressed yet," Clement Boateng explained in a phone interview with GhanaWeb.

He added that the Parliamentary Select Committee on Trade earlier assured GUTA of a resolution but it has since been close to five months now without a possible resolve.

Nigeria's decision to extend border closure to January 2020
On November 1, the Nigerian government announced its decision to shut its borders to all trade until January 31, 2020.

The extension which was approved by President Muhammadu Buhari was met with discontent by GUTA as they expected the goods of Ghanaian traders stuck at the border since August this year to be allowed to return to the country.

On the other hand, the Nigerian authorities have claimed that the closure has resulted in 'overwhelming success' in the face of the country's economy and security.

According to Nigeria, the action taken was to express its displeasure at the attitude of the Beninoise traders whom they alleged are smuggling rice illegally into Nigeria.