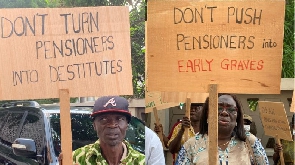 The Coalition of Individual Bondholders Groups (IBHAG) has served notice to the Ghana Police Service of their intended picketing at the Ministry of Finance premises in Accra from the 6th of July 2023.
In a letter dated July 4, 2023, and jointly signed by the two groups, they indicated that the group is made up of the Individual Bondholders Association of Ghana and the Individual Bondholders' Forum.

The letter added that all together the Coalition represents about three hundred thousand individual bondholders.

"The Coalition would like to picket from the 6th of July 2023 till the resolution of our grievances.

"We shall be picketing to among other things, draw governments attention to its failure to pay outstanding Principals due its members and the facilitation of the conversion of subsequent maturing bonds into treasury bills in the month of June and beyond as agreed in the MOU signed by the leadership of the Coalition of Individual Bondholders and the Ministry of Finance on behalf of the government," the Convener of IBHAG, Dr. Joel Djangma explained.

According to him, the government has so far not shown any commitment whatsoever to honoring this agreement to alleviate the pain, hardships and untold stress on the members.
"The government has without recourse to our fundamental rights to own property as stipulated in the highest law of the land taken over our properties and as such we, the Coalition of Individual Bondholders in the spirit of our National Anthem to resist oppressors welcomes your corporation and professionalism in our quest to demand what is rightfully ours," the letter concluded.

Watch the latest edition of BizTech below: