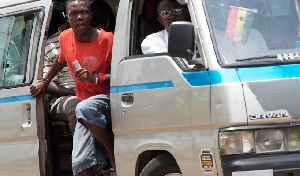 All commercial omnibuses which do not provide emergency exit doors in compliance with the directive by the Driver and Vehicle Licensing Authority (DVLA) would not be registered for operations in the country.
The DVLA has asked drivers and owners of these buses to create exit routes for their vehicles for compliance by the end of June this year.

The directive is intended to ensure maximum protection for passengers, as it is assumed that the current situation puts the lives of passengers in danger, and subsequent fatalities in the event of an accident.

The Ashanti Regional Director of the DVLA, Mr. George Afful, in an interview with The Chronicle, said on the strength of Legislative Instrument (L.I.) 21/80 section 134, sub-section 'h', the official documentation and registration of buses would now be major criteria to ensure the effective implementation of the Emergency Door Exit Policy.

According to Mr. Afful, all buses without the emergency exit door brought to the DVLA for documentation would not be registered, as they would be deemed to have not met the required standards.
He noted that even though some buses were made of full glass panels for which the manufacturers would not permit the provision of emergency exit doors, the law requires that they should be fitted with emergency exit doors, without which they cannot operate.

Mr. Afful urged all transport owners and various transport operators to also cooperate with the DVLA and comply with the mandatory emergency door exit policy.

Meanwhile, Mr. Ato Mensah, First Trustee of the Kumasi Neoplan branch of the Ghana Private Road Transport Union (GPRTU) (VIP Station), has indicated that bus owners have petitioned the government to amend provisions in the constitution regarding the implementation of the Emergency Exit Door policy.

The First Trustee, however, said while awaiting an amendment, transport owners had complied with the directive to ensure that buses have the emergency exit doors.