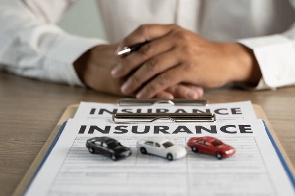 Fri, 27 Jan 2023 Source: GNA
Majority of drivers both commercial and private do not see any benefit from insurance companies in Ghana due to the perceived unwillingness and refusal of payments of claims.
The event, which brought together stakeholders from various sectors took place on Wednesday January 25, 2023 in Accra, to launch YAFO "Driver MO" report and to find ways of improving the insurance sector.

Nathaniel Dwamena, President of YAFO, said that most drivers expressed discontent with comprehensive insurance as it is expensive compared to income levels.

He said the drivers only showed interest in vehicle insurance because it was mandatory and enforced by the police.

He said drivers complained about delays in insurance claims and sometimes to the extent of not being paid by the insurance company.

He said 82 percent of Ghanaian drivers often did not have an interest in filing complaints due to bureaucratic delays in the process.
The research stated that insurance companies required some documents such as doctors' report, car papers, police commentary reports, passports, ID card, and witnesses, among others, making drivers reluctant to collect insurance claims.

After critical evaluation of the research, it was noticed that insurance regulations are generally favourable to insurance companies, the National Insurance Commission and insurance companies needed to do more to provide better and innovative services in response to the needs of the average vehicle owner.

However, YOFA recommended that insurance companies should abolish the third party and categorize comprehensive insurance, digitise the issuance of insurance stickers and build trust between the insurers and vehicle insurance subscribers.

It noted that most vehicle insurance policyholders were not aware of the documents needed to access claims.

Insurance is unlikely to be a factor in good driving behaviour in a situation where insurance is purchased at a fixed rate for all drivers, as is the case in Ghana.
In contrast, in other countries, vehicle insurance is based on an individual profile rather than a fixed fee. A driver's insurance premium is determined by the individual's profile.

Moreover, concentrating more on individual drivers' safety measures, and behavioural patterns as a consideration in determining insurance coverage might lead to drivers/vehicle owners placing a higher value on vehicle insurance.

However, Young Africans for Opportunities (YAFO) is an independent, non-profit, non-commercial organization with the core aim to educate, train, and inspire students, entrepreneurs and young professionals to create, innovate, and promote entrepreneurship through public policy advocacy for a free and prosperous Africa.

YAFO expressed hope that the transformative dialogue and recommendations will act as a catalyst for the much-needed reform in Ghana's vehicle insurance market.
Source: GNA