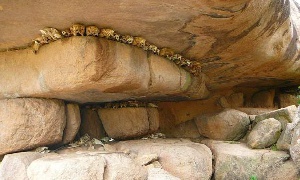 The paramount chief of the Talensi traditional area, Tongraan Kubilsong Nalebegtang has made clarion calls to various institutions to help transform and conserve tourist sites in the area.
He is confident investments by government agencies, NGOs, private sector or diplomatic missions would help raise the standards of tourist sites in his area.

He made this appeal at a ceremony to inaugurate a 17 member Talenteg Development Committee made up of chiefs, Tindaanmas and intellectuals in Tongo.

Talensi traditional area in the Upper East Region is well endowed with cultural heritage which include the famous Tengzuk shrines, caves, Golob dance, stone outlines, and mystery rocks among several others. The traditional area is also rich in gold and diamond deposit. The Pwalugu tomato factory and the only police training school in the three regions in the north are located in the Talensi district.

The development committee is expected to draw up a development plan and link the area up with appropriate organisations to bring development there.

The committee have been tasked to specifically consider development in the areas of agriculture, culture, tourism, cottage industry, education, youth employment, health and roads.
The paramount chief of the Talensi traditional area, Tongraan Kubilsong Nalebegtang is more passionate about the conservation of the culture heritage in the traditional area especially the Tengzul shrines, caves and the stone outlines in the district.

The paramount chief noted that tourism and culture plays a vital role in the lives of Talensi people because it makes them who they are, and must be protected for the coming generations to appreciate where they come from as well as accruing more revenue for the development of the traditional area.

The paramount chief is therefore appealing to government agencies and benevolent organizations to come and invest in these areas and other areas in the traditional area.

TV3's news team visited the Tengzuk shrines, Hyena, Hiding and Donkey caves to appreciate the concerns of the paramount chief. The team was conducted round the caves, the shrines, stone layout and the Tengzuk chief household accommodating 367 people including 23 wives with 115 children of the Tengzuk chief.

The Golob festival and dance is celebrated by Talensi people every year and attracts about 700 tourists both foreign and local.