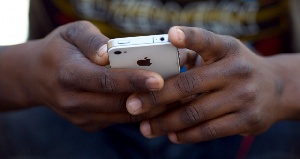 An economist Dr. Ebo Turckson has described the increment in the communication tax by government as unnecessary.
According to him, there other viable means of revenue mobilisation that could be explored in shoring up revenue for the state than targeting communication.

In his view, government could have considered ways of taking appropriate taxes from property owners in the country through the various tax forces within the respective assemblies.

"Some of the taxes being withdrawn shouldn't have been withdrawn at all. The taxes were not on luxury vehicles but rather vehicles that have some engine capacities which consume more fuel and pollute the environment.

"The way this government quickly withdraws taxes they impose creates an impression that they do not do enough consultation before taking action. We should be very careful about communication taxes and others we quickly go to when we need resources. We should find other strategies to raise revenue rather than increasing communication taxes and the like.

"They are other sources of obtaining revenue and that is what we must chase and not just focusing on communication. The communication tax was rather unnecessary," he told Francis Abban Tuesday while reacting to new taxes announced in the budget review.
Government has announced that it is increasing Communication Service Tax (CST) to nine per cent.

The move, according to the Finance Minister Ken Ofori Atta was to develop the foundation for the creation of a viable technology ecosystem in the country.

"This will comprise amongst others putting in systems to identify and combat cybercrime, protect users of information technology and combat money laundering and other financial crimes," he said on Monday when he delivered the government's mid-year fiscal policy review of the 2019 budget statement and economic policy &supplementary estimates.

"The increase will not be earmarked, however, the sharing ratio will be adjusted in such a manner that the national youth employment programmes continue to receive the same proportions as they are currently receiving," he added.